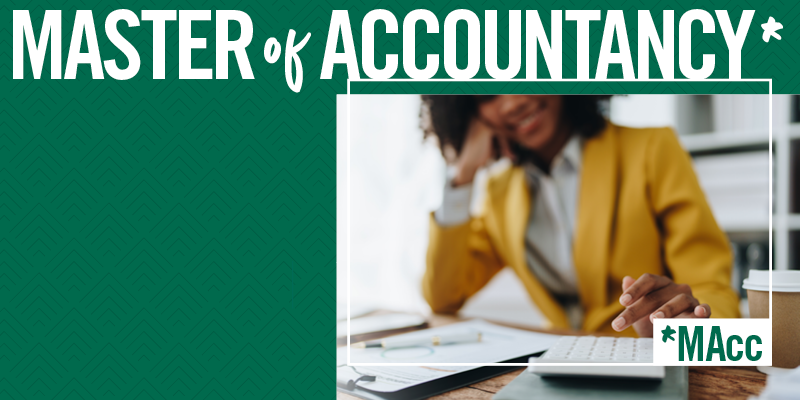 The Master of Accountancy (MAcc) program is designed to prepare students for careers in business, internal auditing, government and public accounting. Featuring five tracks in CPA; Tax; Governance, Risk and Compliance; Analytics (STEM) and Information Systems (STEM), a large percentage of students become Certified Public Accountants (CPA), Certified Management Accountants (CMA), Certified Internal Auditors (CIA), and/or Certified Information Systems Auditors (CISA).
Take the Next Step:
Learn more: 
---
Curriculum and Courses:
The MAcc program consists of a minimum of thirty semester hours beyond the baccalaureate degree. The program is flexibly delivered through classes that are offered on-campus, online and using hybrid formats to accommodate all students, including those who are currently working. STEM Tracks are available in Analytics and Information Systems.
The program is divided into four levels.
Levels I and II: Program Prerequisites
| Level I: Skill Proficiency* | Level II: Business Knowledge |
| --- | --- |
| GAD 501 – Business English | ACT 501 – Financial Accounting |
| GAD 502 – Intermediate Business English | BLW 511 – Business Law and Ethics |
|   | FIN 501 – Financial Management |
|   | OSM 510 – Analytical Methods |
*Courses in Level I may be waived on the basis of prior courses, work experience or by examination. Familiarity with Microsoft Office is required.
**Courses in Level II may be waived based on recent undergraduate business course work.
Level III: Professional Accounting Preparation:
Level III course work prepares the student for successful entry into the profession. These credits may count for the 30 credit hours for a student without an undergraduate degree in accounting. Students with an undergraduate degree in accounting who have not taken one or more of these courses will take the course(s) as an elective(s) as part of the required 30 credit hours.
Level III Courses:
ACT 531 – Intermediate Accounting I
ACT 532 – Intermediate Accounting II
ACT 575 – Accounting Analytics
ACT 600 – Managerial Accounting
Level IV: Professional Core and Specializations:
Students with an undergraduate degree in accounting may pursue two of the following specialty tracks (excluding the CPA track). Alternatively, a student may pursue one track and select four electives in consultation with an advisor. If the student has not completed one or more of the courses that are part of the CPA track, then the student should complete the course(s) as part of the set of electives designed to replace a second specialty track.
Students without an undergraduate degree in accounting should complete the CPA track only.
Level IV Courses: Required by all students
ACT 634 – Financial Statement Analysis and Accounting Valuation
ACT 639 – Ethical, Social and Regulatory Issues in Accounting
CPA Track:
Only available to students without an undergraduate degree in accounting.
ACT 587 – Accounting Systems
ACT 621 – Federal Income Taxation
ACT 622 – Attest Function
ACT 631 – Advanced Accounting Issues
Tax Track:
ACT 538 - Tax Research & Planning
ACT 545 - Multi-jurisdictional Tax Issues  
ACT 562 - Tax II or ACT 637 - Taxation of Partnerships, Estates & Trusts
ACT 636 - Federal Income Taxation Of Corporations & Shareholders
Governance, Risk and Compliance Track:
ACT 555 - Internal Auditing
ACT 565 - Fraud Examination
ACT 632 - Governance, Risk and Compliance
ACT 553 - Information Systems Auditing
Analytics Track: STEM Emphasis
BUS 600 - Applied Business Analytics
BUS 601 - Managing Database for Business Analytics
BUS 602 - Strategy for Business Analytics
ACT 553 - Information Systems Auditing
IT Systems Track Requirements: STEM Emphasis
ACT 588 - Advanced Accounting Information Systems
ACT 553 - Information Systems Auditing
IT Systems Track Electives (Choose 2 of the following from any specialty group):
Programming and Development Electives
IST 503 - Systems Analysis Methods
IST 504 - Modern Database Design & Implementation
IST 506 - Management of Business Networks
IST 602 - Advanced Programming of Business Systems
IST 634 - Enterprise Databases
IST 641 – Electronic Commerce
Governance and business intelligence
IST 612 – Business Analysis
IST 614 - Project Management and Scheduling
IST 615 – Business Intelligence System
IST 618 – Systems Thinking & Modeling for Dynamic Information Systems
IST 635 – Business Valute of Information Technology
IST 660 – Data Mining & Business Intelligence
IST 675 – IT Governance
Organizational Security
IST 600 – Fundamentals of Systems Development
IST 606 - Management of Business Networks
IST 636 - Managing Networks and Security Risks
IST 656 - Advanced Information Security
Admissions Requirements:
Applicants to the Master of Accountancy program must meet the admission requirements for the Graduate College, as well as additional requirements including a cumulative undergraduate grade point average (GPA) of 2.75 or better. For applicants with a 3.0 or better undergraduate GPA from a domestic college or university, the GMAT/GRE may be waived. For additional information about the GMAT/GRE waiver, please visit our website here. 
For additional information regarding Admissions Requirements for the Master of Accountancy program, please visit the Graduate Catalog here.
Accreditation:
The Master of Accountancy program is one of only 189 accounting programs worldwide that hold Accounting Accreditation from AACSB International—the hallmark of management education. Learn more about AACSB Accreditation here.
Tuiton and Fees:
The current tuition and fee structure is published by the Cleveland State University Office of Treasury Services.  Our Master of Accountancy program offers affordable tuition and one of the best graduate accounting education values in Northeast Ohio.
To make an appointment with a Graduate Business Advisor, please contact the Graduate Advising Office:
Or: