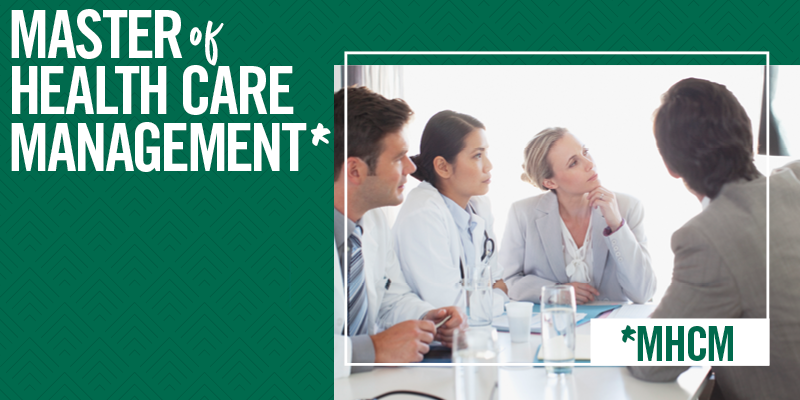 Never has there been a time, in recent history, when there has been a need for strategic health care leadership. The Master of Health Care Management provides specialized coursework in which graduates receive a holistic view of the complex, ever-evolving industry and a deep understanding of how management and medicine work together to achieve the goal of superior patient care.
Take the Next Step:
Learn more: 
Curriculum:
The NEW Master of Health Care Management consists of 30 credit hours. There are no electives. The program is delivered 100% online to accommodate working students. If you are not interested in a 100% online program, consider our MBA with a specialization in Health Care Management.
Courses:
HCA 501 – Managing People in Health Care Entities
HCA 502 – Financial Management for Health Care Managers
HCA 503 – Efficiency Management in Health Care
HCA 515 – Medical Care Organization
HCA 555 – Analysis of Health Care Markets
HCA 602 – Public Health Administration
HCA 616 – Seminar in Health Quality & Policy
HCA 625 – Health Care Informatics for Managers
HCA 640 – Health Care Law and Ethics
HCA 660 – Integrated Business Strategy for Health Care Administration (capstone course)
Admissions Requirements:
Applicants must meet the Admission Requirements for the Graduate College.
Tuiton and Fees:
The current tuition and fee structure is published by the Cleveland State University Office of Treasury Services. Our Master of Health Care Management program offers affordable tuition.
To make an appointment with a Graduate Business Advisor, please contact the Graduate Advising Office:
Or: