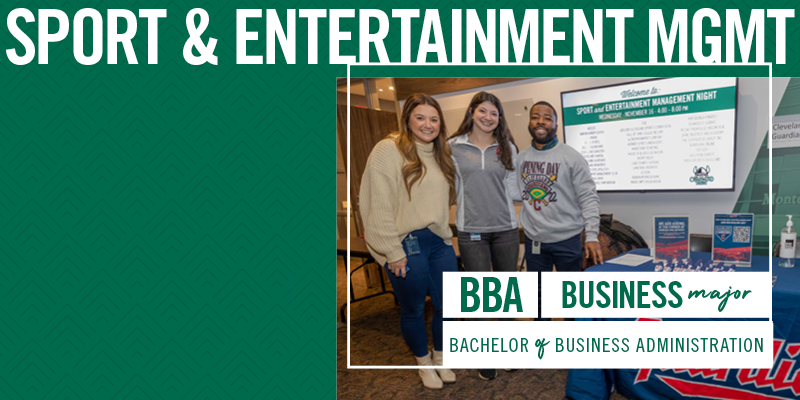 Careers within the Sport and Entertainment Industry are expected to grow 22% by 2030 according to the Bureau of Labor & Statistics. The Bachelor of Arts Degree in Sport and Entertainment Management program provides a multidisciplinary, core business education and depth of knowledge in the management and marketing of organizations in the Sport and Entertainment industries to prepare graduates for careers in amateur, collegiate and professional sports as well as other entertainment organizations. To speak with a business advisor about this major, please request more information here.
Curriculum
Minimum hours required for degree: 120
---
Business Core:
The Business Core is 12 courses and 36 credit hours. Classes include:
ACT 221 Introductory Accounting I
BUS 351 Business Society or BLW 411 Busines Law (W)
ECN 202 Principles of Microeconomics
FIN 201 Personal Financial Planning 
GAD 250 Business Communications (W)
IST 203 Software Tools for Personal Productivity
IST 305 Information Technology for Competitive Advantage
MKT 301 Fundamentals of Marketing
MGT 301 Principles of Management
MGT 321 Organizational Behavior
OSM 202 Introduction to Business Analytics
OSM 311 Introduction to Operations Management
Sport and Entertainment Management Major Core:
The Sport and Entertainment Management Major Core is 13 courses and 39 credit hours and focuses on specialized sport and entertainment knowledge with an emphasis on individual initiative, teamwork and critical thinking. There are 11 required courses and then students can choose 2 additional courses to complete the major core.
Required Sport and Entertainment Management courses include:
SPM 201 Introduction to Sport Management
SPM 300 Sport Management
SPM 301 Leadership in Sport
SPM 302 Data Analysis in Sport
SPM 321 Sport Law
SPM 408 Perspectives in Global Sport
SPM 441 Current Issues and Trends in Sport
SPM 461 Sport Governance & Policy
SPM 465 Sport and Entertainment Management Strategy (W)
SPM 467 Sport Marketing
SPM 469 Sport Funding
Elective Sport and Entertainment Management courses: Choose 2, total of 6 credit hours from either the Marketing or Management area:
Marketing Electives:

SPM 401 Sport Analytics
SPM 420 Sport Sales, Promotion and Sponsorship
SPM 490 Internship

Management Electives:

SPM 421 Sport Facilities Management
SPM 463 Entertainment Event Management
SPM 490 Internship - It is highly recommended that students take two internships during their academic career (maximum of 6 credit hours). Through the programs' relationships, events and more.
Interdisciplinary Knowledge:
Students must select 12 credit hours (4 courses). These courses are open electives but could be used to support the Sport and Entertainment Management major with interdisciplinary knowledge from current academic programs. Suggested courses could be selected from:
Undergraduate Courses for pre-Graduate coursework 
Students should work with a Business Advisor to help select their courses to meet their overall career objectives.
Admission:
Admission to major: Standard CSU admission criteria for high schoool, and transfer students .
Math Requirement:

BUS 201 or STA 147 and OSM 202 satisfy the Cleveland State University Math general education requirement with a final grade of "C" or higher.
MTH 148 for Pre-MBA and those students who choose to double major in Sport and Entertainment Management and a BBA Major.

Foreign Language Requirement no additional courses are required beyond the University foreign language requirement.
Transfer students MUST complete at least 50% of their coursework at Cleveland State University.
General Education Requirements: 35 credit hours:

WAC courses and 1 Social Science is a part of the Sport and Entertainment Management major.
Want to learn more?