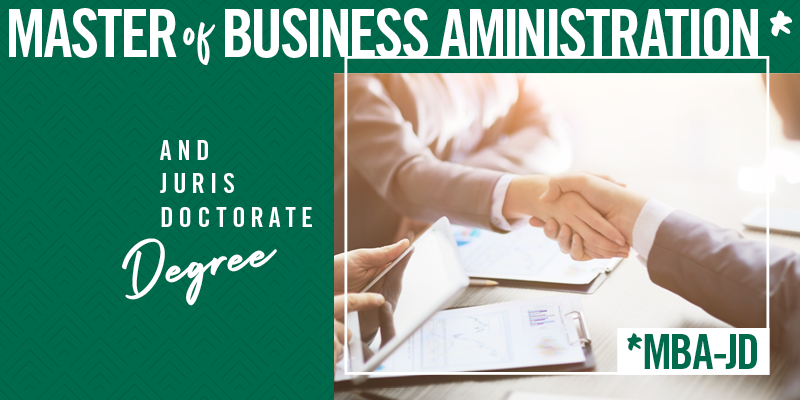 The combined design of the curriculum leading to the degrees of Juris Doctor (JD) and Master of Business Administration (MBA) permits students to complete both degrees over four years instead of the five years that would normally be required to complete the two degrees separately.
All requirements for both programs must be completed before degrees will be awarded. If a student elects to receive one degree before completing the requirements for the other degree, forfeiture of some transfer credit will result, and the student will be longer be in the Joint Degree Program. The student will not be allowed under any circumstances to take more than eight years to complete the combined programs.
Admission Requirements
Students applying to the MBA program must meet the admission requirements for the Graduate College as well as the admission requirements for the College of Law.
Degree Requirements
The Joint Degree Program requires a total of four academic years. The JD requirements will be fulfilled by the completion of 90 semester credit hours of work in the College of Law, including all required courses, as well as ten credit hours transferred from MBA courses. The MBA requirements will be fulfilled by the completion of 22 credit hours of required Level III course, while using nine credit hours transferred from law courses.
A student under the Joint Degree Program must begin the first year of work in the College of Law. The student's second year of study will consist of the first year's curriculum of the MBA program.
In order to ensure that the degree requirements of both programs will be fully maintained, while at the same time permitting the saving of a full academic year, students who pursue the combined programs will not be permitted to take elective courses outside either the College of Law or the MBA program for credit toward either degree.
How to apply:
Applicants for the combined program must apply for admission to both the College of Graduate Studies and the College of Law concurrently and follow the normal procedures of the respective colleges. The application for admission must be specifically for the Joint Degree Program.
For more information or assistance in applying for the program, please contact the Graduate Business Advising Office in the Monte Ahuja College of Business at 216-687-3730 or gradbusinessadvising@csuohio.edu.