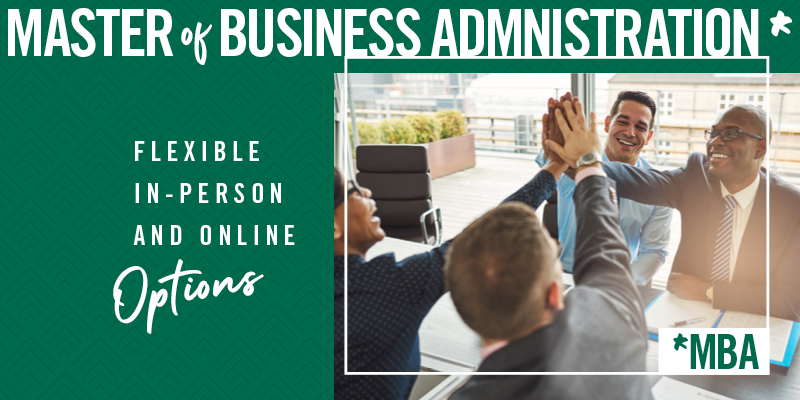 Earn your MBA in as few as 10 courses. The Monte Ahuja College of Business Administration offers a world-class MBA degree with the option to add a number of different specializations by adding only 3 more courses.
Don't have an undergraduate degree in business? No problem! We have streamlined our previous curriculum to only 4 pre-requisite courses before you begin the main MBA program. We also offer flexible in-person and online options so you can schedule your coursework and maintain your work/life/school balance. 
Learn more:
Curriculum/Coursework:
For students who do not hold an undergraduate degree in business, there are just four pre-requisite courses (10 credit hours):
ACT 500 – MBA Financial Accounting (2 credit hours)
FIN 501 – Financial Management (3 credit hours)
MKT 501 – Marketing Theory and Practice (2 credit hours)
OSM 510 – Analytic Methods (3 credit hours)
All MBA students must take 10 core courses (30 credit hours). Students can elect to add three additional courses to earn a specialization that will be designated on the student's transcript and diploma. Core courses are as follows:
ACT 600 – Managerial Accounting 
FIN 601 – Financial Policies 
IST 601 – Information Systems
MGT 601 – Managing Human Resources
MGT 604 –  Leadership & Interpersonal Effectiveness
MBA 660 – Integrative Business Strategy 
MKT 601 – Marketing Strategy
OSM 620 – Operations and Supply Chain Management 
An Analytics Course (select one from the following):
 • ACT 575 – Accounting Analytics
 • BUS 575 – Introduction to Business Analytics
 • MGT 600 – Human Resources Management Metrics and Analytics
An International Business Course (select one from the following):
 • ACT 560 – International Accounting
 • FIN 621 – International Financial Management
 • MBA 602 – International Business
 • MKT 608 – Global Marketing
 • OSM 624 – Global Operations Management
Specializations:
Add three (3) courses to earn a specialized MBA degree. Your specialization will be designated on your transcript. Specializations include:
Accounting and Taxation
Advertising and Analytics
Digital Marketing
Economic Forecasting
Governance, Risk Mangement and Compliance
Information Systems
Labor Relations
Marketing Analytics 
Organizational Change
Operations and Supply Chain Management
You must contact our advising staff at gradbusinessadvising@csuohio.edu to add your specialization to degree audit.
Admission Requirements:
The graduate admission application process involves three steps:
Submission of an admission application and one-time application fee. Learn how to apply, or apply here.
Submission of official transcripts from the colleges/universities where an applicant's undergraduate degree was earned.
Submission of GMAT or GRE scores. GMAT or GRE scores may be waived if:

Students hold a Ph. D. or medical degree
Received at least a 2.75 GPA in their undergraduate degree program
Have taken 2 courses in college composition  (both acceptable to the University) as an undergraduate and has earned an average grade of 3.0 or higher in those courses
Demonstrate successful completion of at least one college level mathematics course (acceptable to the University) above the level of College Algebra with a grade of at least B
The student's undergraduate degree has been earned within 10 years of applying to the program.
For Fall 2022, Cleveland State University is waiving the GMAT/GRE and the application fee, making now the best time to apply to earn your MBA.  Download the program flyer here for reference.
Tuition and Fees:
The current tuition and fee structure is published by the CSU Office of Treasury Services.  Our MBA offers affordable tuition and is one of the best educational values in Northeast Ohio.
To make an appointment with a Graduate Business Advisor, please contact the Graduate Advising Office:
Or: