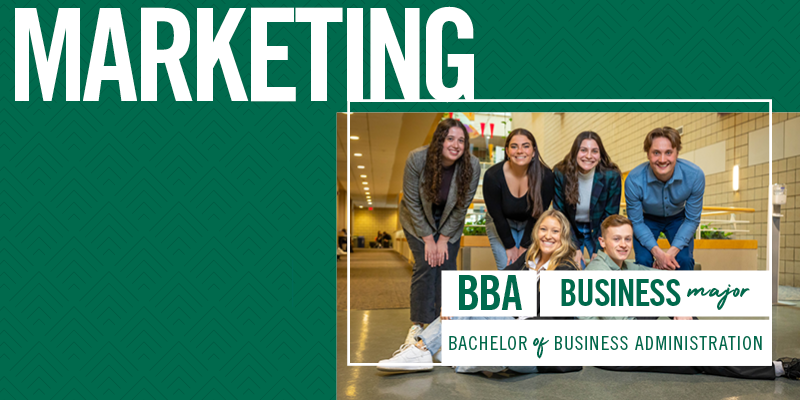 Studying marketing provides students with the basis to understand the art of developing, communicating, and delivering an offering that consumers find attractive. The goal of marketing is to persuade, earn, and keep customers, clients and partners through carefully articulating the value of your product or service. Studying marketing develops creativity, strategic problem solving, and a deep understanding of consumer behavior and motivation.
Special tracks within the Marketing Major include: consumer marketing, business-to-business marketing, international marketing, database marketing and digital marketing.
Curriculum:
A minimum of 120 credit hours are required to earn the Bachelor of Business Administration Marketing Major. The major program is comprised of requires completion of 33 credits in marketing.
Required Courses (15 Credit Hours)
MKT 350 Principles of Personal Selling
MKT 420 Consumer Behavior
MKT 431 Marketing Research
MKT 464 Marketing Strategy
MKT 495 Consulting
Elective Courses (Choose 6 Courses for 18 Credit Hours)
MKT 321 International Business or INB 301 Introduction to International Business
MKT 411 Retail Strategy and Marketing
MKT 440 Field Experience Abroad
MKT 441 Integrated Marketing Communications
MKT 452 Business-To-Business Marketing
MKT 454 Online Marketing Strategies
MKT 456 Customer Relationship Management
MKT 457 Social Media and Mobile Marketing
MKT 461 Global Marketing Strategy
MKT 488 Multicultural Marketing
MKT 490 Marketing Internship
INB 491 International Study Tour
MKT 493 Current Topics
MKT 496 Independent Study
MKT 499H Honors Thesis in Marketing
One 300/400-level course from Marketing or any other Business Department
Admission:
Successful completion of all Business Lower Division requirements.
Students must declare a major and meet the departmental requirements in order to be admitted into their major field.
Minimum grade of C or higher in MKT 301.