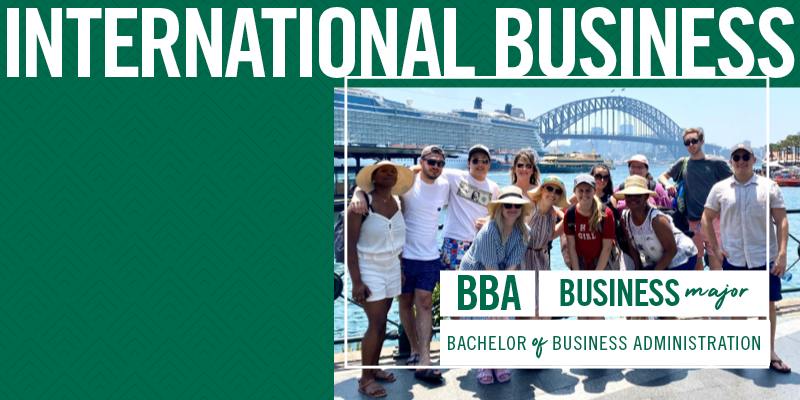 The ability to adapt and thrive in diverse business environments is more crucial than ever before in today's increasingly interdependent global economy.
Studying international business provides students an opportunity to learn and think about the world of business on a global scale. Students gain knowledge and skills required for international business careers while developing an understanding of the political, cultural and regulatory environments that shape international business and trade. International business students learn necessary accounting, finance, supply chain, marketing and management skills that prepare them to succeed in managing multi-national corporations as well as large national firms, medium- and small-sized business expand into international markets.
Curriculum:
A minimum of 120 credit hours are required to earn the Bachelor of Business Administration International Business Major. The major program is comprised of requires completion of 33 credits in the following four component areas:
International Business Core: 9 Credit Hours
INB 301 Introduction to International Business OR MKT 321 International Business*
INB 495 Consulting
International Business Experience - select one of the following courses:
INB 490 International Business Internship
INB 491 International Study Tour**
MKT 440 Field Experience Abroad***
Special Notes Regarding the International Business Core and Experience:
*INB 301 is cross-listed as MKT 321. This course should be taken early in the Junior year, as it serves as the prerequisite course for other INB courses and must be completed before fulfilling the International Business Experience.
**INB 491 is a course that designates faculty-led, short-term study travel to foreign destinations. A number of study tours are organized by the Department of Marketing. Class meetings prior to the trip and a term project are required.
***MKT 440 is a specially-arranged, study-abroad, field experience, conducted in England. The field experience provides intensive business exposure for companies. Students will conduct hands-on research, visit and interact with the business community in the target country as well as prepare written reports and present on international marketing and business topics as identified.
Students who wish to register at a partner university and study abroad may earn transfer credits and an experience credit under INB 492. Please contact businessadvising@csuohio.edu for more information.
International Business Electives - Choose 8 Courses from the following:
ACT 360 Accounting in International Business
ECN 382 International Economic Relations
FIN 465 International Finance/Investmt
INB 488 Multicultural Marketing
INB 493 Special Topics in International Business
MGT 487 International Management
MKT 461 Global Mktg Strategy
OSM 425 International Operations Management
Other Business 300/400-level electives as approved by the Department
Language Component:
Like all CSU students, International Business majors are required to have competency in a language other than English. Two modern language courses are pre-requisites for the International Business major and are part of CSU's General Education requirements. This requirement can be waived based on the following: (a) student's foreign language studies of more than two years; or (b) demonstrated proficiency in student's native language.
Admission:
Successful completion of all Business Lower Division requirements.
A grade of "C" or better in INB 301 Introduction to International Business.