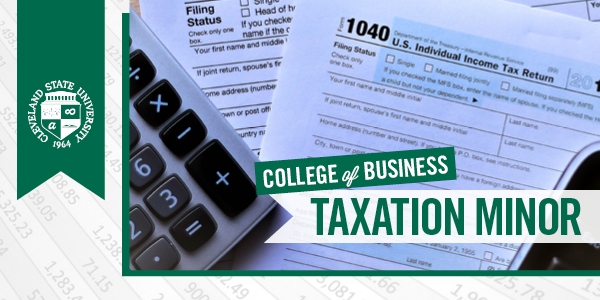 The world of taxation is complex and constantly changing. It is more important than ever for companies to employ professionals with training in taxation. According to U.S. News & World Report, 60% of Americans hire someone to help file their income tax returns and over one million Americans work in the field of tax preparation. 
Designed for students who are interested in the field of taxation, the new Minor in Taxation is especially suited for business students who want to pursue careers in tax accounting.
Taxation Minor Requirements
Core Courses (6 classes, 18 credit hours)
ACT 221 Introductory Accounting I 
ACT 222 Introductory Accounting II 
ACT 361: Tax I
ACT 462: Tax II
ACT 438: Tax Research and Planning
ACT 445: Multi Jurisdictional Tax Issues
Students are required to earn a grade of "C" or better in the above courses in order to receive the Minor in Taxation.
Schedule an appointment with a Business Academic Advisor to learn more:
In Person:

Monte Ahuja College of Business Student Services 
1860 East 18th Street, BU 219 
Cleveland, Ohio 44115

By PHONE:
216.687.3729
By EMAIL:
businessadvising@csuohio.edu