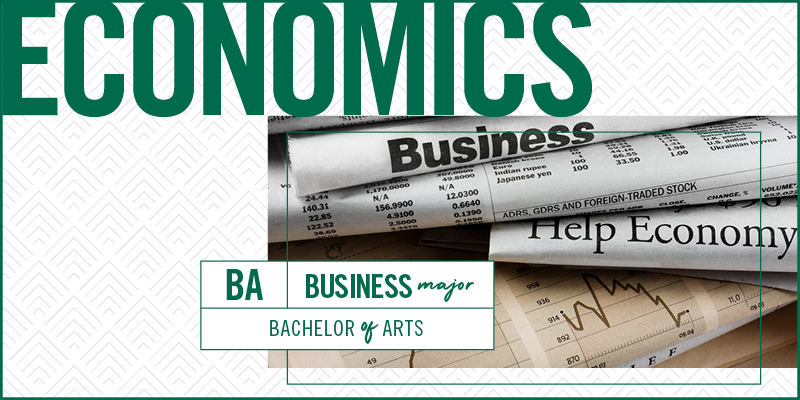 Economists develop theoretical models to explain and predict economic outcomes and test these predictions using advanced statistical techniques. Economics theories can be applied to many topics including the choice of production technologies, wage inequality, schooling decisions, inflation, unemployment and many other economic phenomena that affect the lives of everyone in our society. Many students go on to careers in business, banking, government, education the non-profit sector. 
Curriculum:
A minimum of 120 credit hours are required to earn the Bachelor of Arts Economics Major. The major program requires completion of 30 credit hours in economics, 3 to 4 credit hours in statistics and 4 credit hours in Mathematics for a total of 37 to 38 credit hours.
Required Economics Courses: 18 Credit Hours
ECN 201 - Principles of Macroeconomics
ECN 202 - Principles of Microeconomics
ECN 301 - Intermediate Macroeconomics
ECN 302 - Intermediate Microeconomics
ECN 322 - Introduction to Econometrics
ECN 428 - Applied Economic Analysis
Statistics Requirement: 3 to 4 Credit Hours
Students are required to complete one introductory course in statistics from the following list:
BUS 201 - Applied Business Statistics
STA 145 - Intensive Statistical Concepts with Applications or STA 147 - Statistical Concepts with Applications 
PSY 311 - Behavioral Science Statistics
SOC 354 - Quantitative Sociological Research
Mathematics Requirement: 4 Credit Hours
Students must also demonstrate mathematics proficiency by completing MTH 149 - Mathematics for Business Majors II, or an alternative course approved by the department.
Major Electives: Minimum of 12 Credit Hours
In addition to the core courses for the Wconomics major, 4 Economics elective courses amounting to at least 12 credit hours must be completed. These elective courses should be chosen in consultation with an advisor.
ECN 221 - Introduction To Mathematical Methods In Economics
ECN 230H - H: Game Theory and the Social Sciences
ECN 311 - Economic History of the United States
ECN 316 - Comparative Economic Systems
ECN 330 - Managerial Economics
ECN 333 - Economics of Health Care
ECN 350 - Economics of Crime and Punishment
ECN 355 - Money and Banking
ECN 360 - Public Sector Economics
ECN 391 - Consumer Economics
ECN 415 - History of Economic Thought
ECN 433 - Industrial Organization
ECN 435 - Game Theory and Strategic Behavior
ECN 441 - Business Fluctuations & Forecasting
ECN 450 - Economics of Law
ECN 454 - Financial Economics
ECN 470 - Urban Economics
ECN 474 - Environmental and Natural Resource Economics
ECN 475 - Labor Economics
ECN 482 - International Trade
ECN 485 - Economics of Development and Growth
ECN 494 - Special Topics In Economics
ECN 496 - Independent Study In Economics
Admission:
Students must complete the following courses before declaring the Bachelor of Arts Economics. Until successful completion, students will be considered re-Bachelor of Arts Economics Majors. The required entry-level courses are:
ENG 100/101 College Writing I
ENG 102 College Writing II
MTH 148 Math for Business Majors I
MTH 149 Mathematics for Business Majors
STA 147 Statistical Concepts with Applications
ECN 201 Macroeconomics
ECN 202 Microeconomics