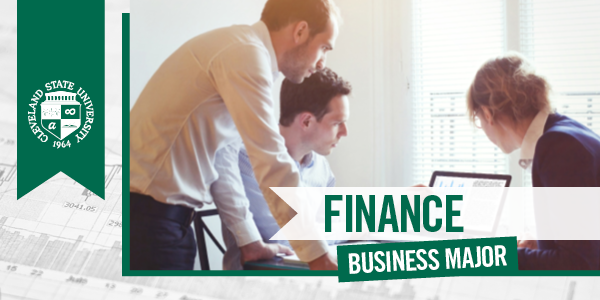 Finance is concerned with the process, institutions, markets,and instruments involved with the transfer of money among individuals, businesses and governments. The Bachelor of Business Administration (BBA) in Finance introduces students to the theories, concepts, practices and advances in financial analysis and financial management.

Students graduating with a major in Finance can qualify for positions in the financial departments of industrial and commercial enterprises, banks, savings and loan associations, real estate firms, insurance companies, other financial institutions and government and public agencies.
Our students enjoy a high rate of employment in public or private corporations, not-for-profit organizations, and government. The Finance major curriculum provides knowledge in asset management, commercial banking, corporate finance, financial planning, investments, insurance, real estate, or risk management. Our graduates have careers in all of these areas.
Curriculum:
A minimum of 120 credit hours are required to earn the Bachelor of Business Administration Finance Major. The major program is comprised of requires completion of 30 credits in Finance, and an additional 9 credits in Finance or other business 300-400 level courses, for 39 total credits.
Required Finance Courses: 9 Credit Hours
FIN 353 Introduction to Investments
FIN 360 Financial Markets and Institutions
FIN 362 Introduction to Corporate Finance
Major Electives: 21 Credit Hours
FIN 385 Financial Decision Making Tools and Techniques
FIN 411 Financial Modeling and Corporate Valuation - new elective starting Fall 2023
FIN 454 Advanced Investments
FIN 461 Bank Management
FIN 462 Fixed Income Analysis
FIN 465 International Finance/Investment
FIN 470 Introduction to Risk and Insurance
FIN 473 CFA Level I Review
FIN 474 Entrepreneurial Finance - new elective starting Fall 2023
FIN 477 Real Estate Finance
FIN 479 Real Estate Investment
FIN 480 Portfolio Practicum (The Student Managed Investment Fund - learn more here.)
FIN 485 Financial Statement Analysiis
FIN 489 Financial Derivativees
FIN 490 Professional Internship
FIN 491 Special Problems in Finance
FIN 493 Special Topics in Finance
FIN 495 International Field Experience in Finance
Admission: