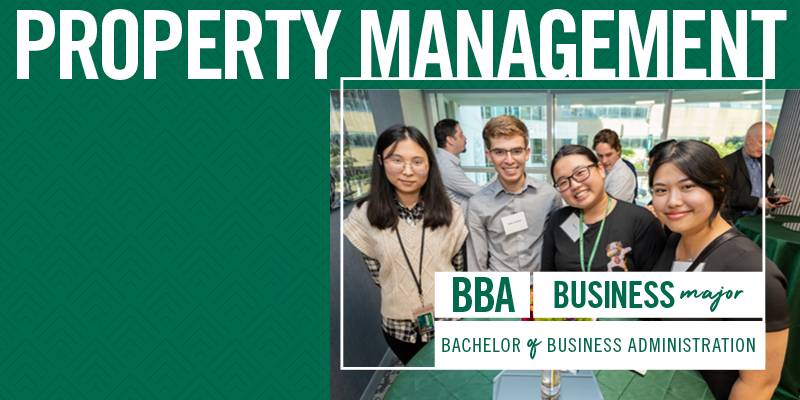 The Bachelor of Business Administration (BBA) in Property Management prepares students to manage a variety of commercial, industrial and residential properties and real estate holdings. Students acquire knowledge in areas such as leasing policies/consulting, legal issues, marketing and management strategies, tenant relations, accounting, maintenance and communication. To speak with a business advisor about this major, please make an appointment here.
Curriculum:
A minimum of 120 credit hours are required to earn the Bachelor of Business Administration Property Management Major. The major program is comprised of requires completion of 30 credits in Property Management, and an additional 9 credits in other business 300-400 level courses, for 39 total credits.
Required Property Management Courses: 30 Credit Hours
The Property Management program is a BBA program and requires the BBA lower and upper core courses. Listed below are the specific 30 credit hours of Property Management major coursework.
PRM 344 Real Estate Principles and Practices
PRM 367 Introduction to Property Management
PRM 387 Real Estate Leasing and Marketing
PRM 444 Real Estate Law
PRM 467 Real Property Asset Management
PRM 487 Property Management: Social Impact & Risk Management      
PRM 470 Property Management Capstone
Real Estate or Sales Electives (three required courses, three credit hours each)
---
Want to learn more?