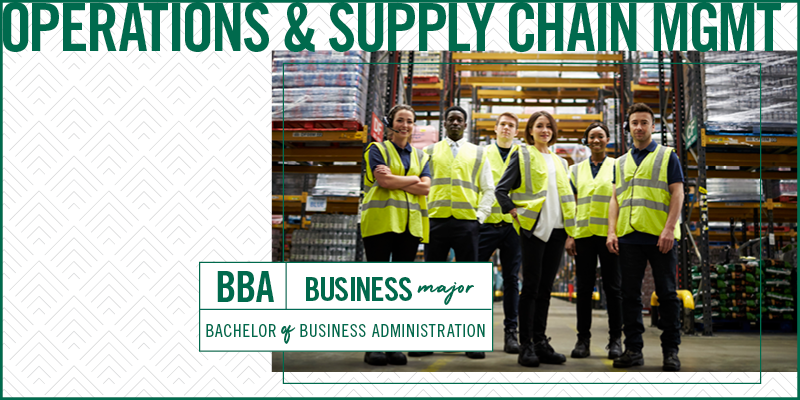 Today, without doubt, the crucial need for businesses competing in the global marketplace to be successful and sustainable requires competence and expertise in the areas of operations and supply chain management. The operations and supply chain management responsibilities include sourcing, procurement, distribution and transportation, process scheduling and improvement, both within and across companies.
Curriculum
A minimum of 120 credit hours are required to earn the Bachelor of Business Administration Operations and Supply Chain Management (OSM) Major. The major program is comprised of requires completion of 33 credits in OSM wiith a grade of C or better in each OSM required and elective course. A maximum of one elective course from the department approved non-OSM elective list may be substituted if OSM electives are not available.
For students who want to focus on a specialization, we provide four possible tracks. Please contact the Monte Ahuja College of Business Advising Office at businessadvising@csuohio.edu to discuss the specializations.
Required Courses (15 Credit Hours)
OSM 312 Supply Chain Analytics
OSM 413 Production Planning and Control
OSM 424 Transportation Management
OSM 427 Strategic Sourcing and Purchasing Management
OSM 490 Professional Internship in Operations and Supply Chain Management*
Elective Courses (Choose 6 Courses, 18 credit hours from below)
OSM 310 Business Modeling and Decision Making
OSM 313 Material and Inventory Management
OSM 412 Supply Chain Modeling
OSM 414 Material and Capacity Requirements Planning
OSM 415 Case Studies in Operations Management
OSM 416 Supply Chain Management
OSM 417 Lean Six Sigma
OSM 419 Operations Strategy
OSM 421 Service Operations Management
OSM 422 Project Management for Business and Technology
OSM 425 International Operations Management
OSM 431 Design of Survey Samples using SAS
OSM 433 Predictive Analysis in Supply Chain Management
OSM 434 Multivariate Business Analytics Using SAS
OSM 435 Applied Business Forecasting
OSM 438 International Field Experience in Supply Chain Management
OSM 442 Innovation Management
OSM 444 Negotiation Strategies for Managers
OSM 445 Quality Management
OSM 448 Queuing and Simulation
OSM 491 Special Problems
OSM 493 Special Topics in Operations Management
OSM 496 Independent Study
OSM 499H Honors Thesis in Operations and Supply Chain Management
One 300 OR 400-level course from OSM or any other Business Department
*Internship Requirement: OSM 490
The professional internship must be pre-approved by the department chair (or the department internship coordinator) by the end of the first week of the semester and must be completed during the Junior or Senior year. Internships that begin without the pre-approval process will not be considered for credit. Students need to register for OSM 490 which counts towards 33 credit hour requirement.
Admission
Successful completion of all Business Lower Division requirements.
Students must declare a major and meet the departmental requirements in order to be admitted into their major field.