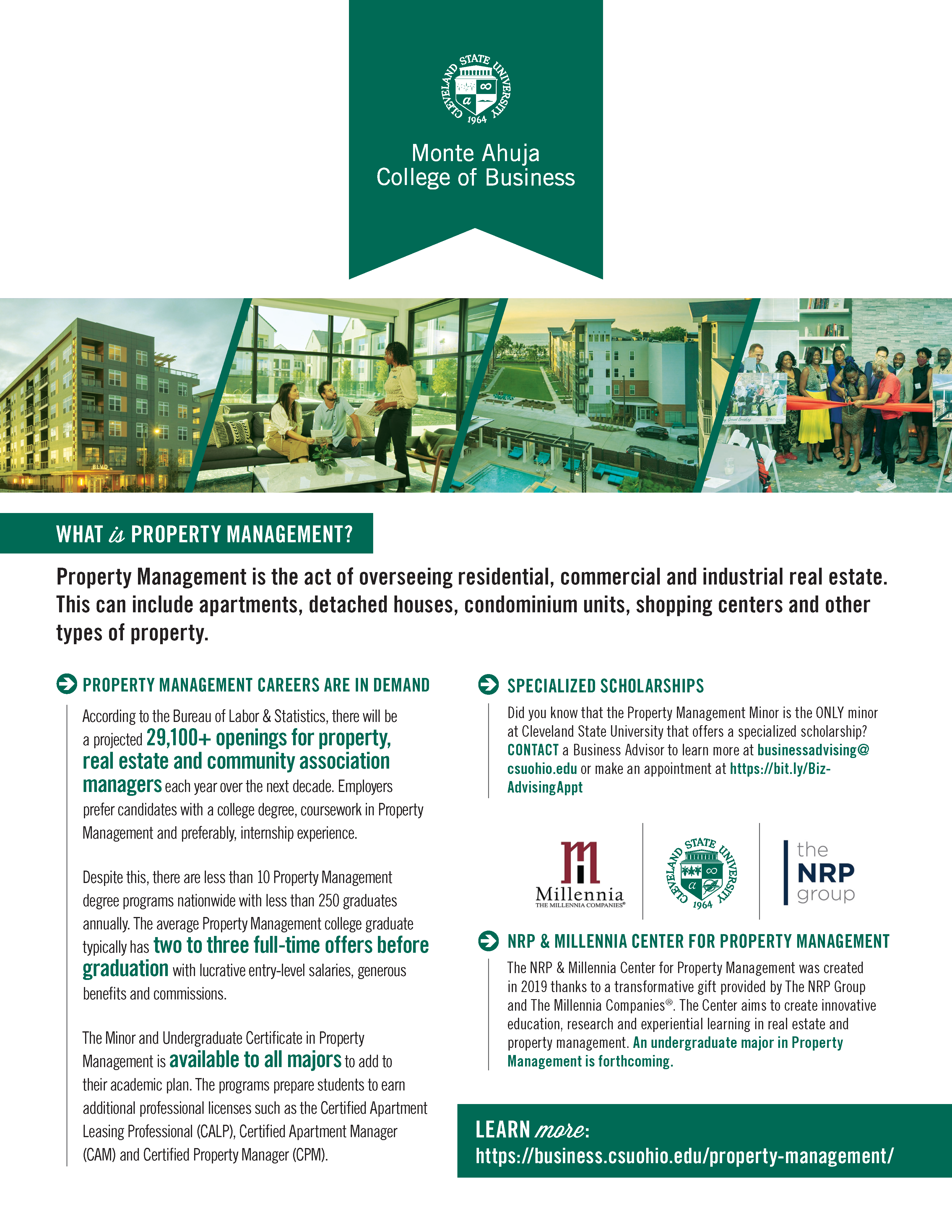 Designed to prepare students to be eligible to take the Ohio Real Estate Licensure exam and/or pursue professional designations such as the Certified Apartment Managmer (CAM) or Certified Property Manager (CPM), the Undergraduate Real Estate and Property Management Certificate prepares students to meet the challenges of a more complex industry with a four-year degree in addition to licensure. 
Download our flyer here. 
Curriculum:
The certificate requires the completion of 12 credit hours. Students are required to take the three required courses listed for 9 credits, and then choose one elective for 3 credits, from the approved list. Students are required to meet all course prerequisites. A minimum grade of C is required in each required course to earn the certificate.
Required Courses
PRM 344 Real Estate Principles and Practices
PRM 367 Introduction to Property Management
PRM 444 Real Estate Law
Elective Courses (Choose 1 Course from below)
FIN 477 Real Estate Finance
FIN 479 Real Estate Investment
MKT 350 Principles of Personal Selling
MKT 431 Marketing Research
PRM 467 - Real Property Asset Management
PRM 477 - Real Estate Appraisal
UST 425 Economic Development Finance
UST 433 Negotiation and Conflict Management
UST 463 Housing Analysis
UST 476 Historic Preservation
UST 485 GIS Principles
Please contact the Undergraduate Business Advising Office to learn more:
LOCATION:

Monte Ahuja College of Business
1860 East 18th Street BU 219
Cleveland, OH 44115

PHONE:
216.687.3729
EMAIL:
businessadvising@csuohio.edu