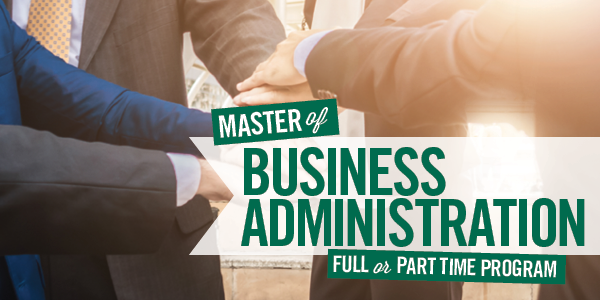 The Monte Ahuja College of Business Administration offers a world-class MBA degree. All of our programs are accredited by the Association to Advance Collegiate Schools of Business (AACSB), the hallmark of quality in management education worldwide.

We offer a variety of programs, including full and part-time programs, with flexibility to accommodate your work schedule and your lifestyle. 
Take the next step:
Learn more today:
---
MBA Curriculum:
The MBA program consists of foundation courses ( Level I and II ) and advanced courses (Level III ).
Foundation courses introduce students to the major functions in business including accounting, economics, finance, organizational behavior, marketing, business ethics, and operations management. Advanced Level III Courses include functional core, integrative courses and three electives.  These three groups are the heart of the MBA curriculum. Download a PDF file for a detailed view of the courses here. 
Specializations/Concentrations:
The Cleveland State MBA program allows students to choose an area of specialization or concentration through their Level III electives. Specializations include:
Accounting

Business Analytics

Entrepreneurship

Finance
Information Systems
Human Resources/Labor Relations
Management
Marketing and 
Operations and Supply Chain Management
To view the individual electives in each of the above areas, review page 2 of the curriculum guide/check sheet here.
Admission Requirements:
The graduate admission application process involves three steps:
1) Submission of an admission application and one-time application fee. Learn how to apply, or apply here.
2) Submission of official transcripts from the colleges/universities where an applicant's undergraduate degree was earned.
3) Submission of GMAT or GRE scores (not required for students holding a Ph. D. or medical degree). In some cases, the GMAT or GRE scores may be waived. Learn more about the instances in which the College will waive the GMAT/GRE requirement here.
Admission to the program is based on a combination of a candidate's undergraduate GPA and the GMAT/GRE score.   
Tuition and Fees:
The current tuition and fee structure is published by the CSU Office of Treasury Services.  Our MBA offers affordable tuition in one of the best educational values in Northeast Ohio.
To make an appointment with a Graduate Business Advisor, please contact the Graduate Advising Office:
Or: