Global Supply Chain Uncertainty
Thursday, February 10, 2022
12:00 PM to 1:00 PM
Steve Downey
Chief Supply Chain Officer
Cleveland Clinic
Lauge Valentin
Vice President Sales, Inventory,
Operations Planning
Mattel Inc.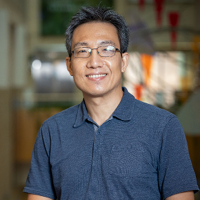 The COVID-19 crisis has tested the ingenuity, resilience and flexibility of supply chain leaders globally, as they have sought to maintain essential operations. Responding to the pandemic has underscored the need for leaders to accelerate the adoption of agile ways of working and value chain transformation to help outmaneuver uncertainty.  
Moderated by Operations and Supply Chain Management professor, Dr. Jay Chen, the discussion will feature best practices, lessons learned and potential barriers.
About the series:
The Monte Ahuja College of Business Cornerstone Speaker Series is where theory meets practice. Intended to be an interactive and engaging conversation led by faculty experts paired with forward-thinking industry leaders who share their knowledge and best practices for operating in today's ever-changing business environment.
Register to attend the next events in our series:
March 10, 2022
AI And The Future Of Work
Register here.

April 14, 2022
Inflation And Consumer Spending
Impact On Business
Register here.
---
Our Fall 2021 and Spring 2022 series focused on: The Other Side Of The Pandemic: The "New Normal". Navigating the "new normal" requires innovation, a growth mind-set and resilience. We continue to learn first-hand from thought leaders who turned adversity into opportunity and are propelling their organizations forward. Watch the presentations on YouTube or view details about each event in our past events section here.