May 11, 2021 at 12:00 noon 
Resilience: Leading Through Crisis - The Cleveland Clinic Experience
About the Speakers:​​​​​​​
Dr. Tracy Porter
Resilience: Leading Through Crisis - The Cleveland Clinic Experience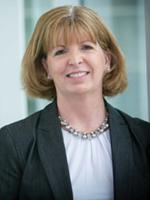 ​​​​​​​Dr. Tracy H. Porter is an Associate Professor within the Department of Management at Cleveland State University's Monte Ahuja College of Business. In this capacity her teaching focuses on health care management and human resource management. She has been the recipient of several teaching awards including the Monte Ahuja College of Business Teaching and Service Award (2012), Faculty Advisor of the Year. The HR Awards (SHRM, 2013),and Expys Best Internship Award, Finalist; Best College Advisor,(2016).
The focus of Dr. Porter's research has evolved over the years and currently she seeks to understand the relationship between individual differences, organizational change initiatives, and organizational success. Though the context of her research is varied her primary focus is on the health care management field. Her research has appeared in a number of scholarly journals including Health Care Management Review, Journal of Vocational Behavior, The Journal of Social Psychology, and the Journal of Organizational Change Management among others. She is an active member of the Academy of Management and Midwest Academy of Management and routinely presents her research at several scholarly conferences each year.
Beyond her scholarly pursuits Dr. Porter also has a thriving consulting practice where she works closely with organizations to apply her academic knowledge to real world challenges. Prior to entering academe, she worked full time in the health care consulting field where she specialized as an onsite change agent for large practices. Dr. Porter also had 15 years of large practice management experience before becoming a consultant.
Dr. Porter holds a bachelor's degree in business administration/human resource management from Towson University, a master's degree in applied behavioral science/organizational development from Johns Hopkins University, and a Ph.D. in organizational leadership/human resource development from Regent University.
---
Dr. James K. Stoller, MD, MS
May 11, 2021: Resilience: Leading Through Crisis - The Cleveland Clinic Experience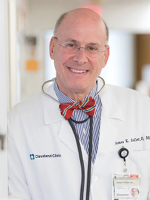 ​​​​​​​James K. Stoller, M.D., M.S. is a pulmonary physician at Cleveland Clinic, where he serves as Professor and Chairman of the Education Institute. He holds the Jean Wall Bennett Professorship of Emphysema Research and the Samson Global Leadership Academy Endowed Chair. He holds a Masters degree in organizational development and serves on the faculty at the Weatherhead School of management of Case Western Reserve University and the Cass School of Business, University of London (UK). His organizational interests and scholarship regard leadership development.