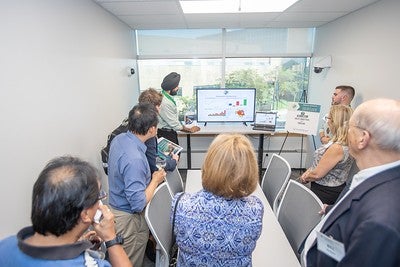 The Bernie Moreno Center for Sales Excellence is pleased to invite students, faculty and staff to use the space and technology within the space to enhance academic learning and create employer connections.
In addition to the main Center space, there are four Briefing Rooms (B, C, D and E) located within the Center that are available to reserve. A reservation is required to use the Space and the individual Briefing Rooms.
Briefing Rooms can be used for a variety of purposes, including but not limited to:
Presentation practice
Class assignments
Pitch practice
Mock interviews
Sales competitions
Employer interviews
Please note that food and beverages are NOT permitted in the Briefing Rooms. 
To schedule the Center, please complete the form below: