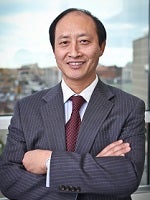 ​​​​​​​Dr. Ping Deng, professor and Monte Ahuja Endowed Chair of Global Business and his colleagues have been approved to launch a special issue in the International Journal of Management Review (IJMR), an official journal of the British Academy of Management.  
The IJMR has consistently been ranked as one of the world's most impactful journal in all the business and management disciplines.  The special issue will include exemplary research on how multinational enterprises (MNEs) respond to the "new normal" of globalization or de-globalization, how emerging market firms (EMFs) meet stakeholders' multiple (and often complicating) interests and co-create, how firms respond to sustainability and how firms foster inclusive organizations, growth and globalization.
The complete call for papers and topics can be found here.
The special issue of IJMR is largely motivated by Dr. Deng and his team's recent cross-disciplinary research within the Journal of International Business Studies. Their article, entitled "A Geographical Relational Perspective on the Internationalization of Emerging Market Firms", discussed the growth of foreign investment in emerging market firms.
The IJMR issue is targeting a publishing date of September 2022 and will be multi-disciplinary. Submissions across a variety of disciplines, including social sciences, law, political sciences, psychology, public administration, urban studies, communications and education services are encouraged and welcomed.
The deadline for submissions is February 25, 2021. Publication criteria for IJMR can be found here.​​​​​​​
---
January 2018:
Dr. Ping Deng discussed his research in international business, including foreign direct investment and mergers and acquisitions and was a featured researcher by Cleveland State University's Department of Research. View the video below to learn more: