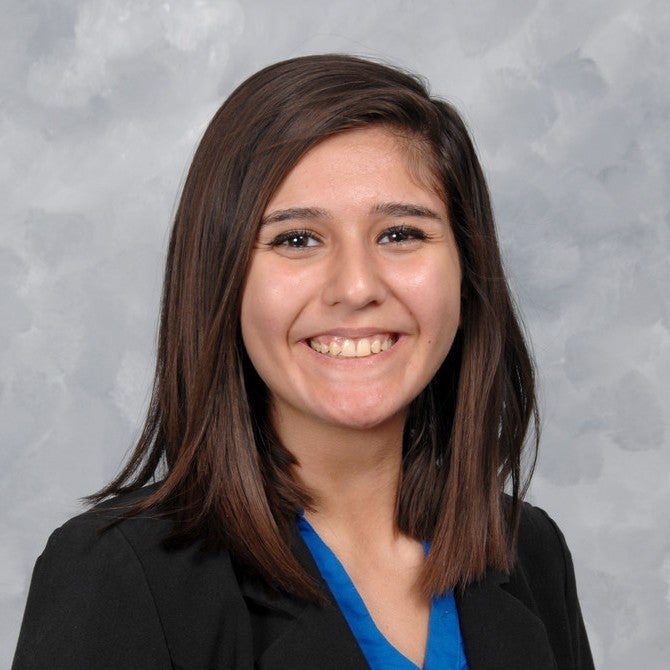 Nahla Youssef is an IT Technical Analyst for a cybersecurity team at a Fortune 500 manufacturing company in Cleveland.
A two-time alumna of Cleveland State University (Bachelor of Business Administration – Information Systems in 2019 and Master of Business Administration in 2021), she first learned about Information Systems as a major from a university advisor.
Nahla always knew she wanted to work with technology, but was not sure if she wanted to be on the more technical side or the business side. Her advisor told her that Information Systems offers the best of both worlds, providing both technical skills and the ability to use technology to solve business problems and support company goals. It was then that she knew the major was for her.
During her undergraduate degree, Nahla interned for the company for which she now works. She decided to return to CSU for her MBA in part because of Dr. Janine Spears. Nahla knew Dr. Spears from her undergraduate coursework, and took information security (which includes cybersecurity) electives. She enjoyed them and Dr. Spears suggested that Nahla take her graduate course in cybersecurity as an elective for her MBA. In the first year of her MBA program, Nahla participated in the "Capture-the-Flag" (CTF) cyber competition on October 22, 2019 at the I-X Center. She and her team placed third in the competition overall and she was the only female participant (read more about the competition here). 
"The reason I stayed at CSU for my MBA is because of the incredible networking opportunities students have because we are in Cleveland,"  she said. "CSU faculty and staff are really there to help you succeed and I appreciate that about CSU a lot."
While at CSU, Nahla was involved in Delta Zeta, Phi Sigma Pi (honors fraternity) and Viking Expeditions as the local service chair. She received a scholarship her senior year and then into the last year of her MBA program that helped defray the cost of school.
Nahla enjoyed Dr. Spears' cybersecurity class so much that she initiated a conversation with her supervisors about her interest in a role on the cybersecurity team. "I knew I had the skillset and the passion. Although there was so much to learn, months later the team contacted me, and I was able to join the now formal cybersecurity team," she said.
When asked about the skills that one might need to be a successful cyber analyst, Nahla mentioned passion, ambition, diligence and staying up-to-date with cyber attacks in general and thinking about how the team can prevent the business' systems from being attacked.
"You have to be 110% proactive and try to be ahead of it because there are bad actors spending 24 hours a day, 7 days a week trying to hack companies to steal information or plant ransomware," she said.
"You also have to be willing to learn and ask questions," Nahla added. "There is so much to learn and it changes constantly, which is what I love about technology, it's changing all the time and there is never a dull moment because there is always something to learn. No one knows it all on a cyber team and you need each other. So working as a team and communicating to both your technical team members and your non-technical team members is crucial."