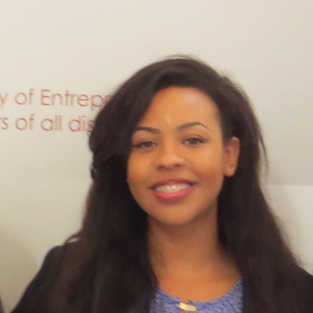 Maia Adams is a senior accounting major set to graduate in December 2016. Before she graduates, she will have traveled to China, completed two internships and participated in a number of activities at CSU including Entrepreneurship immersion Week, the Business Mentorship Program and Phi Sigma Pi. Maia credits her mother for pushing her to do well.
In Spring of 2016, Maia applied and was selected for the Congressional Black Caucus Foundation (CBCF) Emerging Leaders: US-China Study Delegation. This study abroad program, held from June 2nd through June 20th 2016, provided 20 students the opportunity to experience Chinese culture and learn Mandarin during a two-week visit to China. All of her housing, travels and meals in China are covered by the China-US Exchange Foundation and the CBCF paid for housing and meals during Maia's stay in Washington D.C. Learn more about the program here.
Maia is from Cleveland, but did not always call Cleveland State her home. She began her college career at the University of Toledo as a pre-med major. After deciding that medicine wasn't what best suited her, she changed her major to accounting, a profession in which she had previously career-shadowed. Wanting to be closer to home, she headed back to Cleveland and enrolled at CSU.
Maia credits the College of Business's AGENDA newsletter for her internship landings. "Not only does it send information about internships, but it also sends scholarship and professional networking event information."
Maia's first internship was at Your Bean Counters. There, she did bookkeeping part-time while taking a full course load. In her second internship, at PricewaterhouseCoopers, she was an Internal Firm Services intern. Maia says that aside from her mother, her co-workers at PwC were some of her biggest supporters. The people she worked with while in her internship were "very enthusiastic" about helping her succeed. They helped her develop personally, as well as professionally. After graduation, Maia "would love to return to [PwC] and work there full time." She then wants to work on becoming a Certified Public Accountant (CPA).
Maia also received Accounting Scholarships. In 2016, she received the Ernest G. Wessel Memorial Scholarship and in 2015 she received the KPMG Scholarship.
As an almost graduate of CSU, Maia is proud of the school she comes from. She said a student should attend Cleveland State because of the "tremendous opportunities" students are provided. We feel that it was a tremendous opportunity for us to call Maia one of our own.