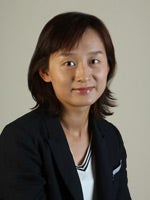 Dr. Ji Eun Park from the Monte Ahuja College of Business was awarded a Faculty Scholarship Initiative award from The Cleveland State University Office of Research to help support her efforts in researching EMNEs (Emerging Market Multinational Enterprises) and Subsidiary Autonomy Delegation: Exploring the Moderating Role of Dynamic Capabilities.
The Faculty Scholarship Initiative (FSI) was established to facilitate faculty scholarship and research.  As CSU moves toward becoming the region's urban research university, the scholarly reputation of each discipline is vital to our mission.  The FSI funds faculty conducting quality research, or other creative or scholarly activity, that advances the respective field or discipline. Learn more about the FSI and past winners here.
Dr. Park, is an assistant professor in the Marketing Department. She obtained her Ph.D. in Marketing and International Business from Saint Louis University in 2010. Her research interests have been in the areas of e-commerce, advertising, cross-cultural consumer behavior, international marketing and corporate social responsibility in the context of international business. She has presented her research at a number of national and international conferences in addition to being published in journals such as the Journal of Consumer Marketing, the Journal of Business Research and the Journal of Global Marketing.
Dr. Park has taught Global Marketing at the undergraduate and graduate level Global Marketing (MKT 461/608/696/708) and International Business (MBA 602) in addition to doctoral courses Global Marketing (MKT 802) and overseeing dissertation research for doctoral students.