As part of the 50th anniversary celebration, a group of alumni was recognized for their individual accomplishments in their respective fields and contributions to Cleveland State University.
At the Distinguished Alumni Awards on September 18, 2014, Anthony Bakale was honored with George B. Davis Award for service to the University. Mr Bakale is a partner with Cohen & Company and has supported Cleveland State University with his time, energy and donations.
More About Mr Anthony Bakale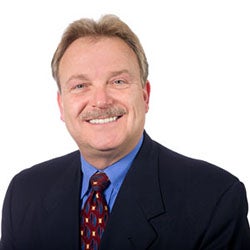 Anothony Bakale is currently a partner with Cohen & Company, one of the country's largest certified public accountant firms. Anthony served on the Accounting Department Advisory Committee in the Monte Ahuja College of Business for 28 years and chaired the group for three years.
He said that he recalls Cleveland State being mostly a commuter college and, over the years, growing and booming into something vastly accommodating.There was not much housing on campus, I think the only housing was Fenn Tower at the time, Bakale said.Since graduating from Cleveland State in 1982, he mentioned his steady involvement in the accounting department in 1984 and 1985. He held officer positions for six years as vice president, present and past president. I spent a lot of time at CSU, it's really a great asset. It is fun watching the school grow and being a part of it is very exciting, Bakale said. 
He spoke of his appreciation for the city as well as the campus downtown.