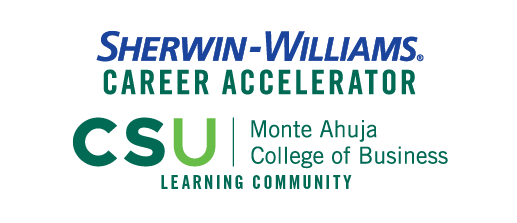 The Sherwin-Williams Career Accelerator Business Learning Community is an exclusive program for high-achieving second year students studying the majors of accounting, finance, or information systems during the Fall 2024 and Spring 2025 academic semesters. 
The Career Accelerator is an opportunity for sophomores to connect their academic studies with a career connection experience with exclusive resources and shared experiences in preparing for a career after graduation, while also supporting the students' academic studies in completing a Business Administration Degree with a major from one of the following areas: accounting, finance, or information systems.
Students who participate in the Career Accelerator will have opportunities to explore career options for the majors of accounting, finance, and information systems through the Monte Ahuja College of Business and Sherwin-Williams professionals. Students will have access to resources that promote student success and personal well-being.
In addition, students will have exclusive access to career engagement and mentorship opportunities within the College of Business with support from Sherwin-Williams, including participation in co-curricular activities and experiences that allow students to explore and prepare for careers that may include the completion of internships. 
Membership is limited to 20 students and students will be required to maintain an overall GPA of 2.8 in Accounting, Finance or Information Systems majors. Benefits include:
One professional business academic advisor to help with course selections and student service academic support.
A PC based Laptop
Business cards
Custom apparel Learning Community
Attend career readiness workshops.
Attend corporate field trips.
Enroll in specialized Learning Community courses for the Fall 2024 and Spring 2025 semesters.  
Prepare for participation in an internship opportunity.
A Fall 2024 and Spring 2025 scholarship - see below for more information. 
Additional Scholarship Information: The scholarship award ranges up to $3,000. 
Questions? 
Please Contact:
Senior Assistant Dean, Anne Nelson at a.e.nelson@csuohio.edu