Posted on November 21, 2019 at 1:28 PM, updated July 8, 2021 at 2:07 PM Print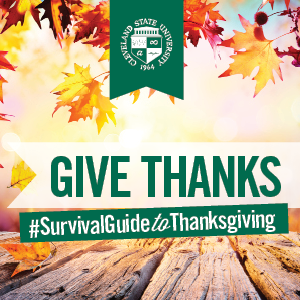 We know that in today's news cycle that things can get awkward or intense when family gathers together over the Thanksgiving weekend. Don't worry - we have you covered with a few ideas to help you out!
"I think I want to get my MBA!"
Book an appointment with Graduate Advising at graduatebusprograms@csuohio.edu and we will provide you with information to steer the conversation. 
"Did you know that I might be able to get waive the GRE/GMAT waived to get into grad school at CSU?"
CSU has general guidelines on GMAT and GRE waivers for our graduate programs here. But the best way to find out the answer to this question is by contacting Graduate Advising at graduatebusprograms@csuohio.edu. Find out and then get kudos from the family on your achievements!
"I applied for a scholarship for CSU's Startup weekend!"
Did you know that because of a generous donation that we have scholarships for you to participate in CSU's startup weekend Startup Vikes for FREE? That includes all your meals from Friday night through Sunday night, snacks, workshops, team-building and more! Learn more about this weekend long business competition here and get the family talking about business ideas instead of politics.
"I'm thinking about adding a business minor or certificate program."
Our business minors and undergraduate certificate programs add value to any major and can help distinguish you in the job market. Explore your options here and let your family know that your business advisor is going to help you work it into your plan.  Then grab yourself an extra dessert. You've earned it.
"I'm thinking about continuing education courses - CSU students and alumni get a discount."
Our Professional Development Center offers a number of certificate programs and continuing education courses and workshops to help sharpen your skills and position you for success. Find a course that will help you change the dinner conversation here. 
"The deadline to apply for the Ohio Society of CPAs scholarship is coming up! I better finish my application - please excuse me!"
The link to the application is here - if you are not an accounting major or a Master of Accountancy student, take this time to hide behind a computer screen and online shop!
And... in case things get really intense...
"I forgot that I am meeting up with my classmates to work on a Black Friday group project! I'll see you all later!"