Posted on March 18, 2020 at 10:35 AM, updated April 28, 2023 at 3:09 PM Print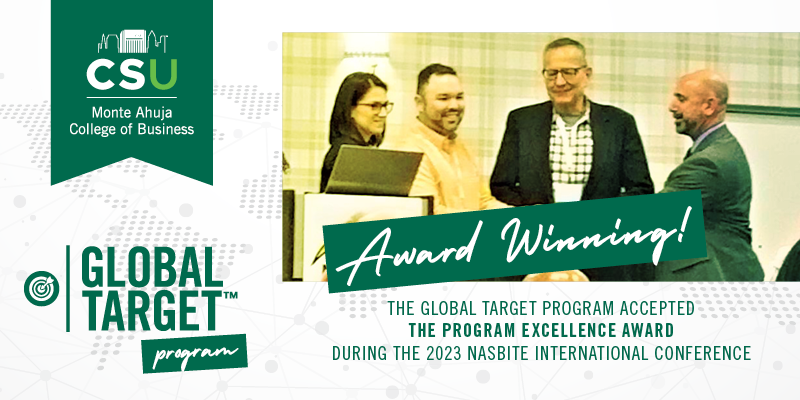 GlobalTarget® accepts prestigious award
The GlobalTarget® Program emanating from the Global Business Center at CSU accepted the Program Excellence Award during The NASBITE International Conference on March 30.
The award recognizes outstanding and innovative international education, counseling, training, trade promotion, and research developments. The honor is awarded for specific programs developed by public or private sector trade-related organizations or educational institutions to meet a need.
The GlobalTarget® program assists small to medium-sized companies (with sales from $5 million to $50 million) in extending their global resources and building an effective global strategy. Company employees gain the skills to manage global markets more efficiently and effectively. The program includes an interactive series of workshops, mentorships, best practice materials, and more. Qualifying companies can receive 100% reimbursement on the low-cost enrollment fee through the Ohio IMAGE/STEP grant.

Nate Ward is the Director of the Global Business Center, a part of the Centers for Outreach and Engagement at the Monte Ahuja College of Business. He is also a Trade Advisor for CSU's Small Business Development Center (SBDC) Export Assistance Network (EAN).
He was one of the keynote speakers at the conference.
"We are excited and honored to receive such a prestigious recognition [and] it is reflective of the tremendous amount of collaborative energy that goes into the one-of-a-kind program, said Ward.
Learn more here.