Posted on June 6, 2019 at 8:59 AM, updated April 28, 2023 at 2:28 PM Print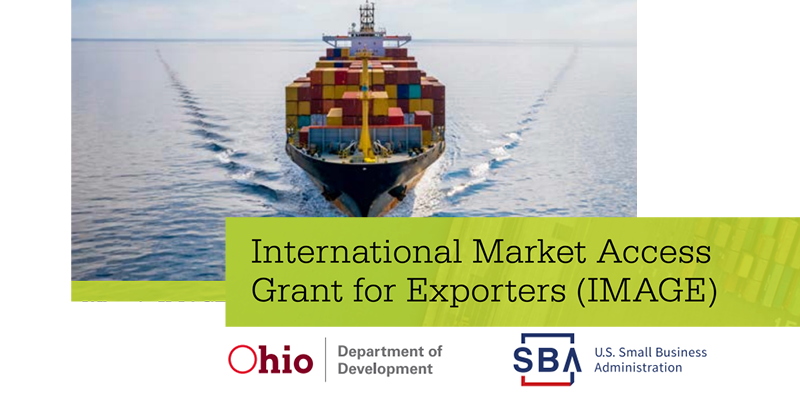 IMAGE – Export Grant Programs for 2023 begins Round 2 of Funding
International Market Access Grant for Exporters (IMAGE) is brought to you buy the The Ohio Department of Development. The program offers grant programs to help Ohio companies export their goods and services, gain export knowledge, and participate in trade missions.
Company Eligibility
IMAGE provides eligible companies a 50% reimbursement of up to $10,000 in grant funds (i.e., 50% of $20,000 in eligible expenses) to engage in activities to increase export sales. Companies can receive up to $10,000 in reimbursement per program year, not per funding round.
For more detailed information, click here: IMAGE Handbook
Round 2 of Image Funding for 2023
IMAGE will cover activities starting April 1, 2023, (or when application is approved, whichever is later) and ending on or before Sept. 29, 2023. $200,000 of funding will be awarded on a first-come, first-served basis. Companies with application issues will be given 10 days to remedy their application.

The application portal will close when sufficient applications are received to expend $400,000.
The application portal will reopen prior to Oct. 1, 2023, for the 2024 Federal Fiscal Year.
Export Training
Receive 100% reimbursement on export training, up to $5,000 per grant year. Training must be successfully completed to be reimbursed. Grant year runs from Oct. 1, 2022, through Sept. 29, 2023. All activity and company eligibility listed under the IMAGE section applies to the Export Training Grant. Reimbursement requests due within 30 days of training completion.
Currently accepting applications for:
Export training opportunities that are proposed in the grant applications, subject to the approval of the program manager.
Additional training opportunities will be added to the application as registrations open. All IMAGE eligibility criteria apply to the Export Training Grant.
Apply here for Export Training.