Posted on April 19, 2021 at 5:36 PM, updated April 19, 2021 at 6:06 PM Print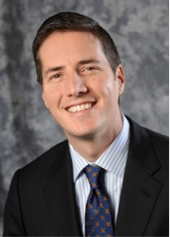 On April 12th 2021, Bernie Moreno, namesake of the Bernie Moreno Center for Sales Excellence within the Monte Ahuja College of Business spoke at the Society of Information Management (SIM) Cleveland chapter meeting. Members of SIM include senior information technology executives from private and public organizations, government agencies and universities. Members meet monthly to hear from industry leaders.
After an introduction from Dean Kenneth Kahn, Bernie Moreno shared his journey from selling cars in Westlake in the early 2000's to moving vehicle titles through blockchain. Bernie's company, CHAMPtitles, was able to decrease the title transfer process time from 50 days to less than a day by digitizing the documents and transferring them using blockchain. This process is currently in place in northeast Ohio and is being marketed to other states.
Bernie stated, "anything that is paper-based could be safely transferred using blockchain". He gave passports, hunting and fishing licenses and certifications as examples. Vehicle titles are just the tip of the iceberg.
Members were inspired by Bernie's entrepreneurial spirit and willingness to challenge the status quo. His effective formula for success: spot an opportunity, seize it and succeed with unmatched entrepreneurial energy, was in clear display.
"Bernie Moreno gave our packed SIM Cleveland April chapter meeting a really interesting look at the advantages of using Blockchain technology to optimize his new business venture, said Anthony Crimaldi, Director of Technology, Kalman & Pabst Photo Group and SIM President. He presented the platform in a way that made it easy to understand how the technology could be the foundation for many other businesses which solve efficiency problems.
"It was a pleasure to have Bernie as our guest speaker. Thank you to CSU College of Business Dean, Dr. Kenneth Kahn for helping to secure him as our speaker," Anthony added.