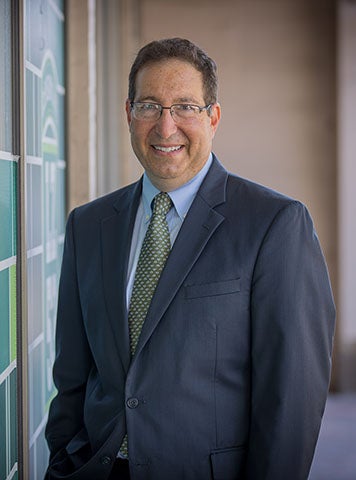 ​​​​​​​Kenneth B. Kahn, Ph.D. is Dean at the Monte Ahuja College of Business. He oversees all administrative and operational activities and works to enhance the college's reputation as a beacon institution of business education, scholarship and research.
Prior to joining Cleveland State, Dean Kahn was the Senior Associate Dean of the School of Business at Virginia Commonwealth University (VCU). His career at VCU included serving as interim dean for part of 2017, as executive director of the VCU da Vinci Center which focuses on interdisciplinary innovation and entrepreneurship initiatives across the University and Professor of Marketing. Prior to VCU, he held leadership and faculty positions at Purdue University, University of Tennessee and Georgia Tech.
Dr. Kahn's teaching and research interests include product innovation, product management and demand forecasting of current and new products.
He has published over fifty articles in journals such as the Journal of Product Innovation Management, Journal of Business Research, Journal of Forecasting, Journal of Business Forecasting, Business Horizons, and R&D Management. He has authored the books Product Planning Essentials (Sage Publications, 2000; M.E. Sharpe, 2012; Routledge, 2020) and New Product Forecasting: An Applied Approach (M.E. Sharpe, 2006) and served as editor of the PDMA Handbook on New Product Development, 2nd and 3rd editions (Wiley & Sons, 2004, 2013). In 2012, the Journal of Product Innovation Management recognized Dr. Kahn as one of the top ten innovation management scholars in the world.​​​​​​​
His industrial experience includes serving as an industrial engineer and project engineer for the Weyerhaeuser Company and a manufacturing engineer for Respironics, Inc. He has consulted and conducted training sessions with numerous companies, including Accenture, Coca-Cola, Havi Global Solutions, the SAS Institute, and Tredegar Film Products.  From 2017 to 2019, Dr. Kahn served on the Board of Directors for the Product Development Management Association and continues to serve on the review board for the Journal of Product Innovation Management.
Dr. Kahn earned a Ph.D. in Marketing and a Master of Science in Industrial Engineering from the Virginia Polytechnic Institute and State University and a Bachelor of Industrial Engineering from Georgia Tech.