Posted on December 18, 2019 at 2:29 PM, updated December 19, 2019 at 7:52 AM Print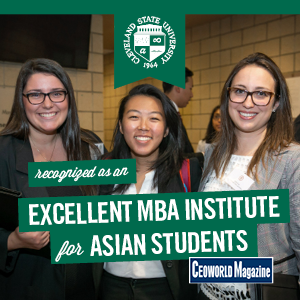 CEOWorld Magazine's Ryan Miller recently named the Monte Ahuja College of Business at Cleveland State University among a list of European and American universities that have proven to be excellent for Asian students. His recent list identified institutions that have excellent academics at an affordable cost. Read the article here.
"Diversity, inclusion, and multiculturalism are cherished values at Cleveland State University and the Monte Ahuja College of Business," said Dean Sanjay Putrevu. "We are pleased that CEOWorld Magazine has named us as a top choice for Asian students seeking a Master of Business Administration degree." 
According to Statisa.com, a leading provider of market and consumer data,  colleges and universities in the United States are becoming increasingly popular for Chinese students. The site states that over 369,000 students chose to take courses in the U.S. during the 2018-2019 academic year, placing Chinese students as the largest population of international students in the U.S. and that business and management courses were the top fields of study. 
In a November 2019 Fortune Magazine article, the top countries sending students to the U.S. included China, India, South Korea and Saudi Arabia despite the total number of international students declining in 2019. The article cited the annual report from the Institute of International Education, stating that the number of Chinese students in the U.S. increased by less than 2%.
Learn more about our MBA programs here.