Posted on March 3, 2020 at 9:27 PM, updated March 4, 2020 at 10:59 AM Print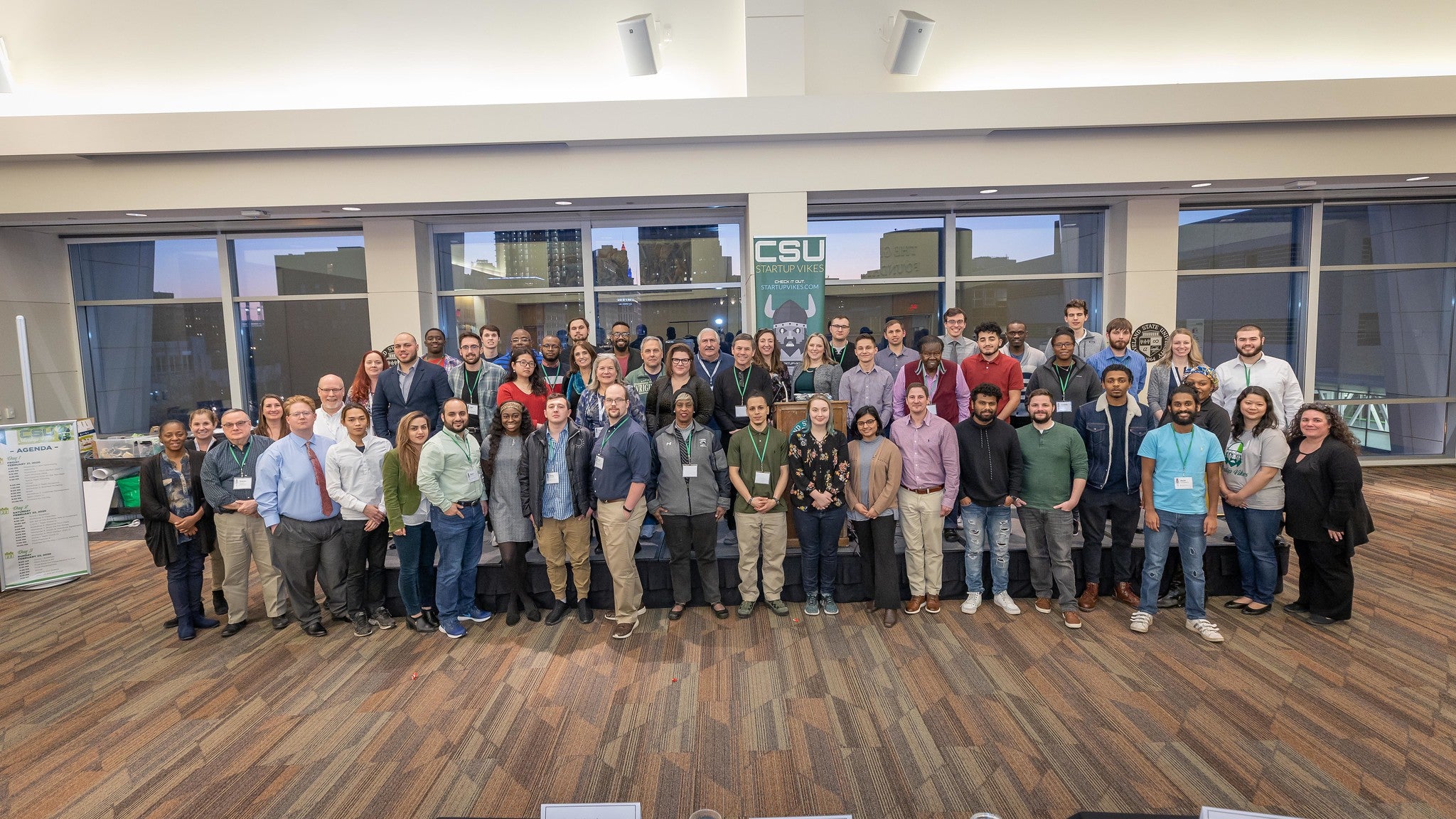 The seventh annual Startup Vikes event was held Friday, February 21st through Sunday, February 23rd 2020 in the Student Center on the Cleveland State University campus. The winning Startup Vikes businesses that received a cash infusion and prize package were: Labor Loft, Smart Swing and Lobbyism.
"We are very proud of all of the businesses developed during Startup Vikes," said Colette Hart, Senior Director for the Centers of Outreach and Engagement. "The entire weekend provided pathways for entrepreneurship – one that we hope all of our teams will pursue after the event at the Weston Ideation Lab on the Cleveland State campus."
"Cleveland State University has been playing a larger role in Cleveland's entrepreneurship ecosystem," said Katie Van Dyke, Director of the Cleveland State University Small Business Development Center and facilitator of Startup Vikes. "It is exciting to see students from different disciplines with complimentary skill sets form teams and help each other to advance their ideas and make connections that can help them continue to advance their business ideas."
"The level of participation from Cleveland State students, alumni, faculty and staff for made for a great weekend," added Hart. "The entire weekend demonstrates Cleveland State University's commitment to deeply practical learning opportunities that engage and enrich the business, technology and legal communities in Northeast Ohio."
"For the winners and the teams formed, now the real work begins," added Van Dyke. "Most of the businesses and individuals who participated will now begin refining their business models, either at the Cleveland State SBDC, or on campus in the Weston Ideation Lab."
60+ Cleveland State students participated and there were 40+ mentors and presenters that provided help, guidance and resources throughout the weekend ranging from strategy, branding, marketing, sales, financial, legal, design services and manufacturing to name a few.
About the Companies Formed
First Place: Labor Loft
Labor Loft seeks to fill the gap between those in need of work and those in need of reliable, vetted, affordable general labor. Laborers learn skills and benefit from a flexible schedule. Local residents and businesses receive assistance with any project within legal and moral reason. The Labor Loft team included CSU Students Cody Goodman (CEO, Management major), Daniel Taylor (Finance major), Harry Quinones (General Business major, Entrepreneurship minor), and Prava Nepal (General Business major).
Second Place: Smart Swing
Smart Swing is a product that is an on-body, motion tracking device and application that analyzes your movements to improve your golf swing and provides corrective suggestions. Team members include: Reza Shisheie (CEO and Master of Computer Information Science), Rahi Jagiri (MBA student), Kam Sharer (Finance major) and Charles Ripepi (Finance major).
Third Place: Lobbyism
Lobbyism is helping citizens cut through call volume to make calls on their behalf to their congresspersons through an app. Lobbyism gives the average constituent the assurance that their message gets through and the congressperson the assurance that the call is coming through from a registered voter in their district who is willing to invest in causes they believe in. The Lobbyism team included Tim Knezevich (CEO and Chemical Engineering major), Marko Varga (Computer Science major) and Sharonda Smith (Economic Development and Urban Planning major).
All Teams:
Aqua Vine Farm: Aqua Vine Farm is a hydroponic, farming company that will provide local, organic, pesticide-free strawberries, year-round to grocers and restaurants.
CatchApp: CatchApp provides real-time insights to make informed decisions about nightclub and bar choices and locations based on crowdsourcing, venue information and dynamic streaming.
ConnectIT Electric: ConnectIT Electric provides a solution that measures your electrical energy usage in each room of your house, then provides recommendations on how to save energy for each appliance and zone in your home through an app on your smart phone.
Reflexx: Reflexx seeks to educate, empower and employ previously incarcerated individuals through personal and professional development and work with existing correctional facilities, state, county, city and other community partners by providing add-on services in collaboration.
ShareOut: "More connected yet more isolated than ever."  The app seeks to encourage social interaction through gaming. Players will receive awards or gift cards and other incentives and participating businesses will reach new customers, retain existing customers and improve their sales during the off hours.
SuperWoke: SuperWoke is an app and device combination that provides alert services for deaf and hearing impaired individuals as well as heavy sleepers.
Startup Vikes Sponsors:
Venture Sponsors: Weston Inc. and Wells Fargo
Angel Sponsors: Burton D. Morgan Foundation, Channel Products, the Jack, Joseph and Morton Mandel Honors College at Cleveland State University
Seed Sponsors: Aladdin's Eatery, HeyNow! Media, Flashstarts and the Monte Ahuja College of Business Centers for Outreach and Engagement and the Washkewicz College of Engineering at Cleveland State University
Bootstrap Sponsors: CLE Urban Winery, Jumpstart, PickFu and the Ohio Small Business Development Centers
About Startup Vikes
Startup Vikes offers developers, designers, marketers, inventors, entrepreneurs and startup enthusiasts an opportunity to share ideas, form teams, build prototypes and launch a business within one weekend.
Using Lean Startup methodologies, the weekend event begins on Friday with pitches, voting for the top ideas and team formation. A series of workshops guide participants through building a business including business modeling, customer development, branding, revenue/financial models, legal and pitching to investors.