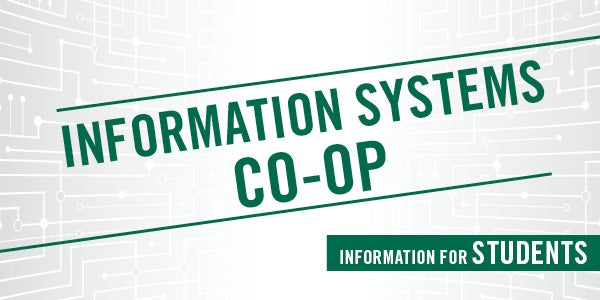 What is Co-operative Education?
Co-Op (short for cooperative education) is an educational program in which students alternate periods of academic study in the classroom with periods of employment in positions related to their academic and/or career interests. Learn more about Co-Operative Education here or in the program brochure, here.
What is the Information Systems Co-op?
The Information Systems (IS) Co-Op is a formal, accredited academic program that integrates classroom theory with work experience. You alternate semesters of work and study beginning the summer after your freshman year. You will complete a minimum of two and a maximum of four Co-Op semesters. Your degree will be completed in five years with at least one year of meaningful IS experience.
What are the program requirements?
Program requirements, as well as a list of courses, can be found in the program brochure here.
Who are the companies that participate?
Many companies participate in the Co-Op program for a complete list, please contact the program coordinator.
Who is the program coordinator?
The program coordinator is Dr. Sharen Bakke. To learn more about Dr. Bakke as well as to view her contact information, please click here.
Who are the students who have participated in the program?
A list of students recently placed in the IS Co-Op program can be found here.
What does the timing look like?
A typical timeline for the Information Systems Co-Op programs can be found here.
Need more information? Have specific questions?