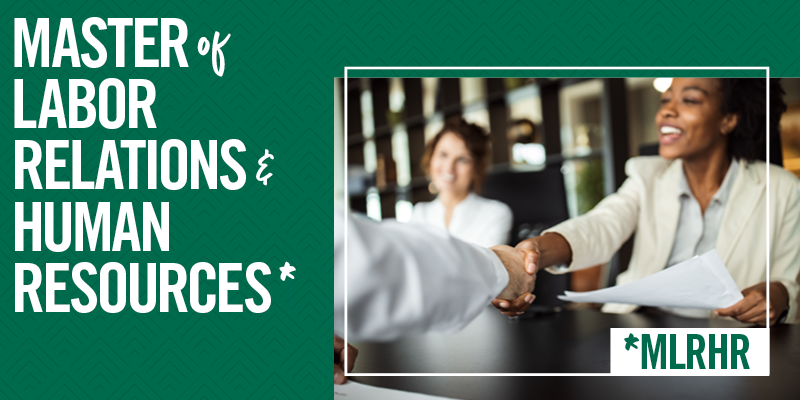 The principal objective of the online Master of Labor Relations and Human Resources (MLRHR) degree program is to help graduates begin or advance their careers in human resources and labor relations.  
The program is designed to accommodate all students since all courses offered online.  To earn the degree, students must take 33 credit hours – by taking only two classes a semester you can earn the degree in only five semesters. Many full-time students can complete the degree program in as little as three to four semesters.
Faculty:
The Management Department's full-time faculty members represent a broad range of academic and professional backgrounds. Our faculty's areas of expertise include:
Human Resource Management
Organizational Behavior
Strategic Management
Decision Making
Interpersonal Relations
Leadership
Equal Opportunity
Admissions Requirements:
Students applying to the MLRHR program must meet the Admission Requirements for the Graduate College, as well as additional requirements including an undergraduate GPA of 2.75 or better and a GMAT or GRE score that meets minimum requirements for admission to the Graduate College. Students can be admitted to the program without a GMAT or GRE score.
For additional information regarding Admissions Requirements for the MLRHR program, please visit the Graduate Catalog here.
For information regarding degree requirements for the MLRHR program, please contact our Graduate Business Advising Office, at graduatebusprograms@csuohio.edu or 216.687.3730.
 
Take the Next Step: