Posted on May 31, 2016 at 3:19 PM, updated May 31, 2016 at 3:21 PM Print
On May 19, 2016, the Rotary Club of Cleveland and the Sustainable Business Center at the Monte Ahuja College of Business co-sponsored the Business Leadership Award for Sustainable Business Practices Leadership. The Center has sponsored the award since 2012. Presented during the meeting of the Rotary Club at Windows on the River, the following awards were presented: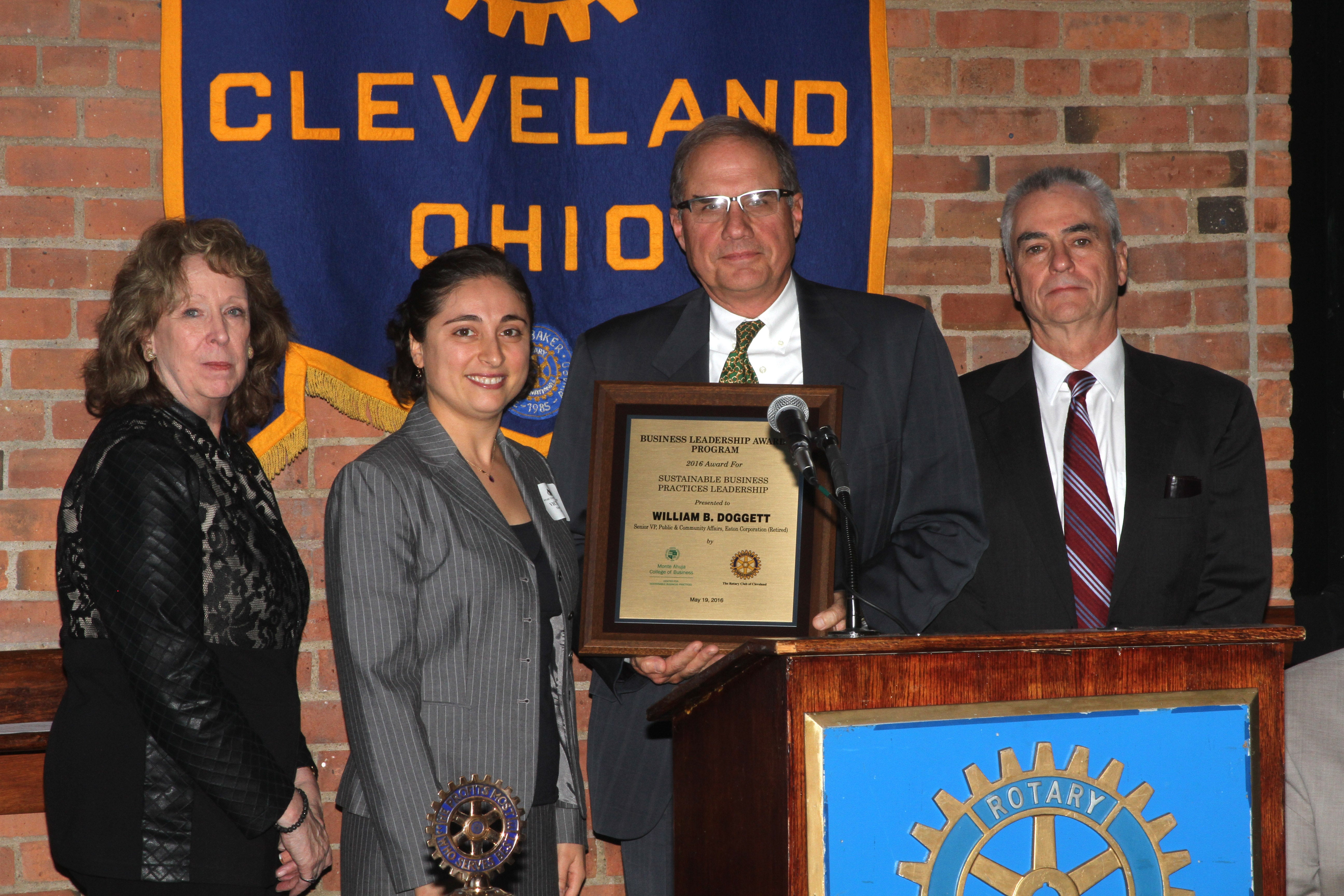 Pictured above, left to right: Beverly Ghent-Skrzynski, current president, Rotary Club of Cleveland; Victoria Avi, manager of the Sustainable Business Center within the Monte Ahuja College of Business at CSU; William B. Doggett, award recipient) and Dr. Richard Reed, Dean, the Monte Ahuja College of Business at Cleveland State University.
About William B. Doggett:
William B. Doggett is the former Senior Vice President, Public & Community Affairs for Eaton Corporation. Eaton is a global diversified power management company with over 97,000 employees. In his position, Mr. Doggett had worldwide responsibility for representing Eaton with governments at the federal, state and local level, as well as overseeing the company's community involvement and corporate contributions programs. Mr. Doggett retired from the company on December 31, 2015. 
While at Eaton, Mr. Doggett encouraged company participation in the Conscious Capitalism movement, membership within the Sustainable Business Center's Corporate Roundtable and supported the Sustainable Cleveland Center in Tower City. He participated in Sustainable Cleveland 2019 Summits for many years. Currently, Mr. Doggett serves as board chair for LAND studio, and organization that focuses on sustainable development, including partnering with the Rotary on the Red Line Greenway project. He is treasure of Social Venture Partners, a network of philanthropists who join together to strengthen non-profit organizations. Has been involved with the City Club, the Greater Cleveland Partnership, Philanthropy Ohio, Invest in Children, the Maxine Goodman Levin College of Urban Affiars at Cleveland State University, the Cleveland Leadership Center, Great Lakes Theater, Beech Brook and the Center for Families and Children.
Previous to his employment at Eaton, Mr. Doggett was the deputy director of Cleveland Tomorrow and held several leadership positions within BP America and its predecessor, Standard Oil of Ohio. Mr. Doggett holds an economics degree from Middlebury College in Vermont and an MBA from Case Western Reserve University.
About the Sustainable Business Practices Award:
The Sustainable Business Practices Leadership Award goes to an individual or firm that displays significant achievement in the development, use and promotion of sustainable business practices. Past winners include: David E. Nash, NashDaniels, LLC; Terry V. Theile, The Lubrizol Corporation; Mike Neundorfer & Steve Ostanek, Neundorfer, Inc. and Aparna Bole, M.D. UH Rainbow and Children's Hospital.