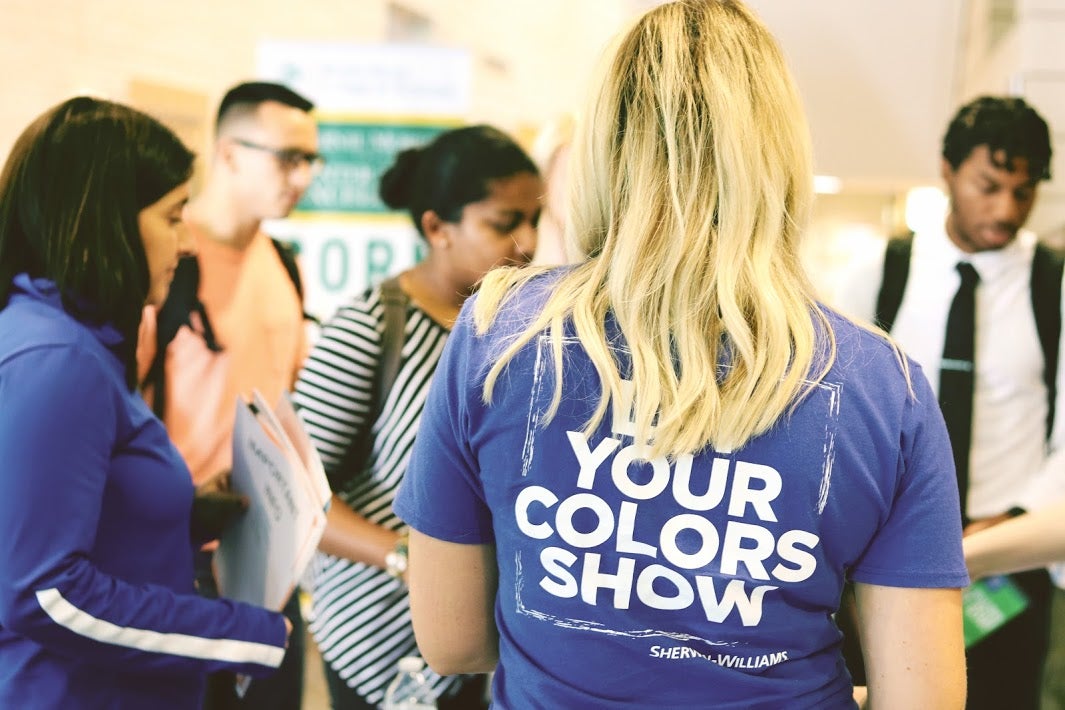 On Thursday, September 13, 2018 Sherwin-Williams executives and recruiters and visited Cleveland State from 11:00 AM to 2:30 PM. Hosted by Office of Career Development and Exploration, Sherwin-Williams employs a large percentage of Cleveland State alumni and founded the first corporate alumni chapter at Cleveland State. Sherwin-Williams employees, Cleveland State students, faculty and staff participated in different types of events throughout the day and across campus.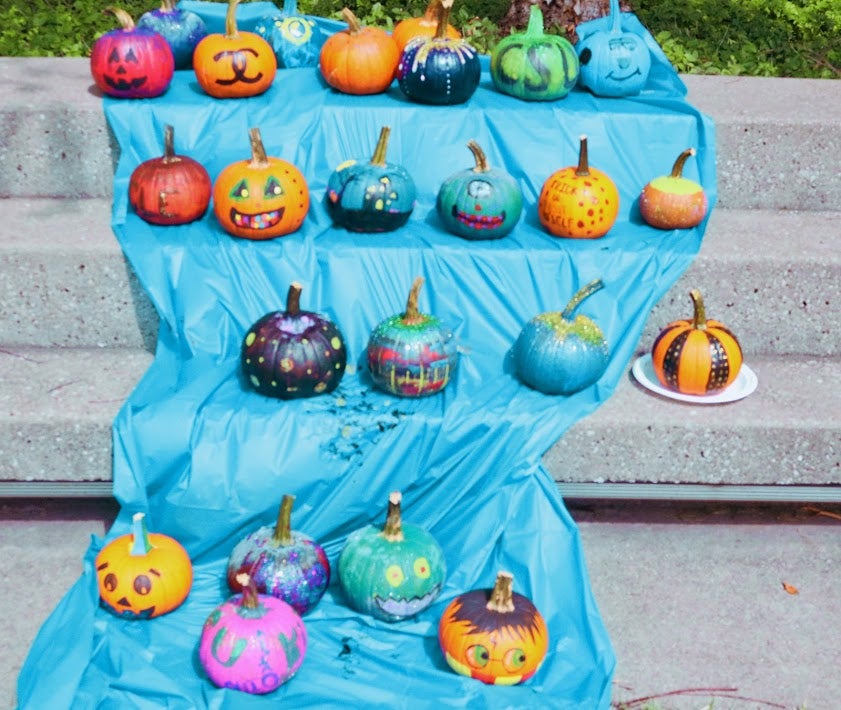 In the Student Center Plaza, the student-led Campus Activities Board held their annual "Fall into Cleveland" event and Sherwin-Williams hosted a pumpkin painting contest. Recruiters from Sherwin-Williams hosted an information table on the second floor of the Student Center in the Innerlink and both the Washkewicz College of Engineering and Monte Ahuja College of Business hosted interactive panel discussions in their buildings. At the end of the day, the Office of Career Development and Exploration held a resume review for students.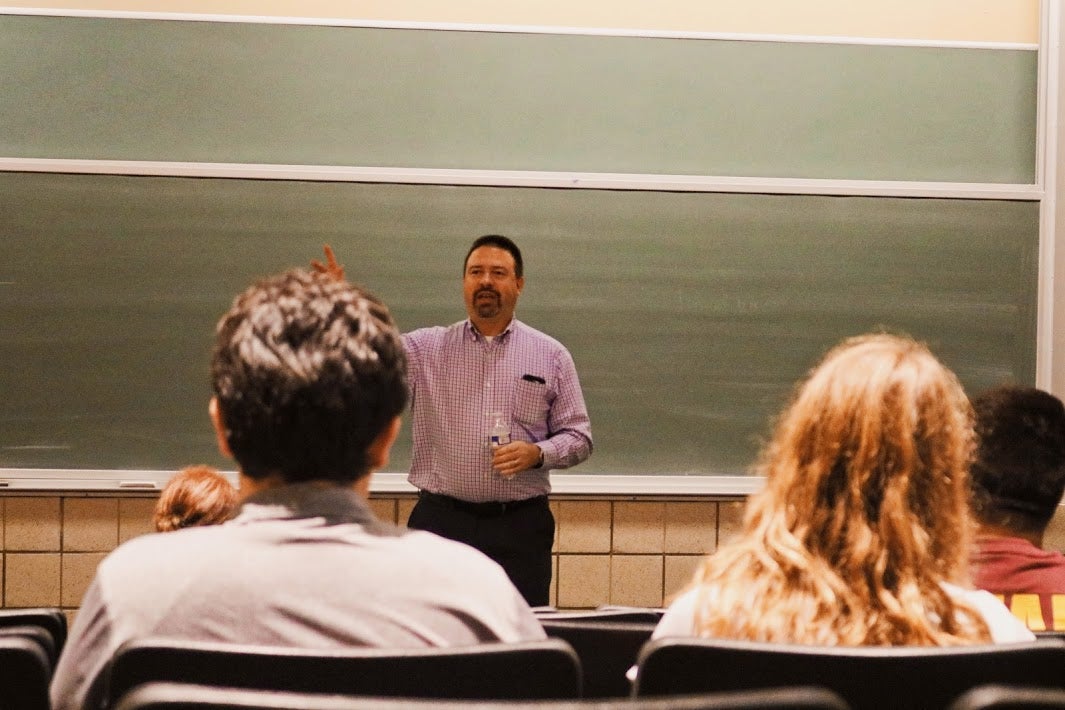 Within the Monte Ahuja College of Business, eight panelists discussed company culture. With the east coast under a watch for Hurricane Florence, discussion centered on the three hurricanes that hit Texas, Louisiana, Mississippi, Puerto Rico, the U.S. Virgin Islands and Florida.
Overall, there were 10,000 Sherwin-Williams employees impacted by the storms during 2017 and $250,000 was raised and donated by Sherwin employees. All eight panelists were proud of the way the "Sherwin-Williams Family" came together in the aftermath of the storms. The sentiment was best summed up by Marie Spangler, director of community engagement when she said, "I'm so proud to represent this brand."

After the discussion surrounding culture, the conversation turned to opportunities at Sherwin-Williams. Cleveland State University alumna and Global Supply Chain Customer Service Supervisor Emily Loan, a fourth generation employee of Sherwin-Williams said, "It's a big Sherwin world!"
She emphasized that although students may not start at the top, they can work their way there. "At Sherwin, confidence and pride in yourself equals success," added Loan.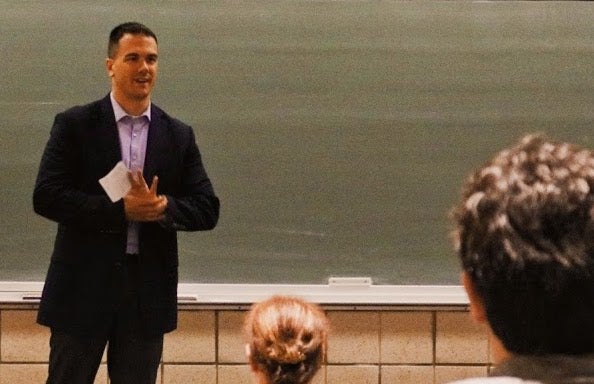 Keith Valore, Vice President of Finance Global Integration, Monte Ahuja College of Business Visiting Committee member and  two-time alumnus of Cleveland State (Bachelor of Business Administration and Master of Business Administration degrees) said at Sherwin, "There's a world of possibility."
Antonietta Trunzo, Senior Marketing Manager and Cleveland State University alumna explained how her career at Sherwin has afforded her 7 different roles over the past 11 years. Hired after a career fair she attended while still a student, Trunzo said, "The way we do business is changing. We have to have a growth mindset and adapt to the ever-changing world of business."
Panelists wrapped up the discussion by sharing words of wisdom and encouragement for the CSU students in attendance. Valore said, "Whatever you do in your career be passionate about it. We've been successful because our employees are passionate."
Chris Underwood, Marketing Product Manager for KST Roof Coatings at Sherwin-Williams and CSU Business alumnus added, "Be persistent. I wasn't the best and you don't have to be the best, but be persistent."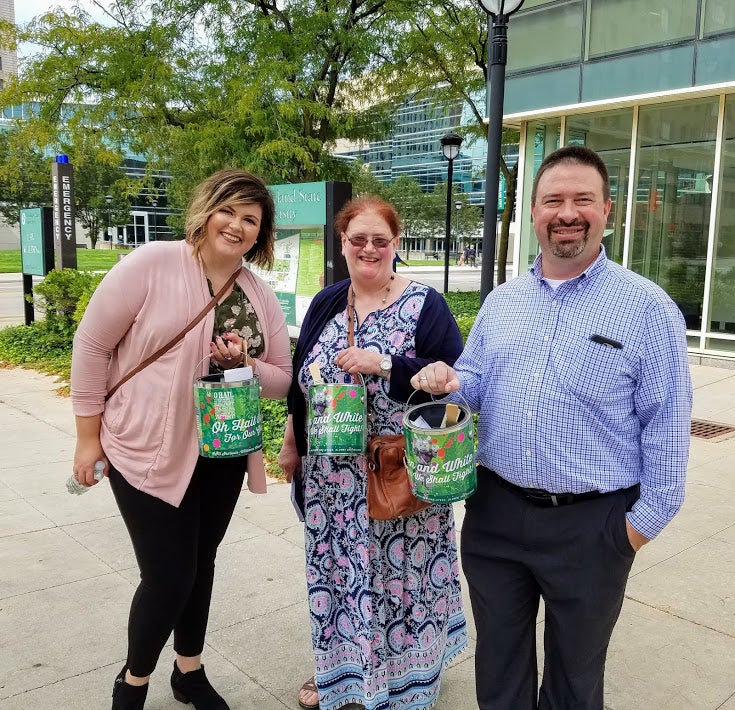 Lastly, Ashley Rudyk, Human Resource Specialist said, "Your time is limited, so value your time. Value others' time and make the most of every opportunity."
Special thanks go out to the organizers of Sherwin-Williams Day and to the panelists for visiting our campus.
Story and photos provided by Nicole Merlino, Monte Ahuja College of Business Marketing Major