Do you need help with Handshake? CSU uses Handshake (or Hire-A-Vike) as their main platform to support students, employers and alumni. 
Your first step will be to log-in. You can either go to the Office of Career Development and Exploration site here or you can log-in directly here.
Select Cleveland State University
Use your CampusNet credentials to sign-in
If this is your first time signing in, you will be asked questions about your skills and industries of interest in order to complete your profile. You can update your information at any time!
Once your profile is created, click on your name in the top menu bar where it says "My Profile". Upload your resume in "Documents".
To search for jobs, click "Jobs" in the top menu bar. You can search by:
Job title
Company name
City/Location
Key words such as "accounting", "marketing" or "finance" and "internship"
The following example shows a search for Accounting Internships in the Cleveland area: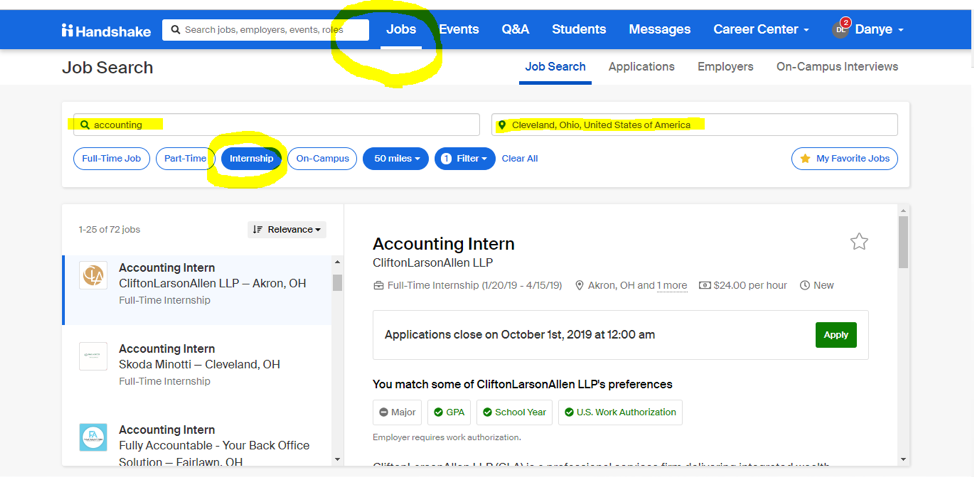 Helpful Hints:
Click the star right next to the job to add it to "My Favorite Jobs" - this provides you quick access to jobs or internships that interest you most.

If you want to follow a specific company on Hire-A-Vike/Handshake, scroll to the bottom of the job description and then click on the company's name. This will allow you to follow the company from their profile on Hire-A-Vike and scan the jobs that they are posting.

Use "Filters" to customize search criteria for jobs that best suit you.
For additional help, please contact

the Office of Career Development and Exploration

: