Recognizing Business Excellence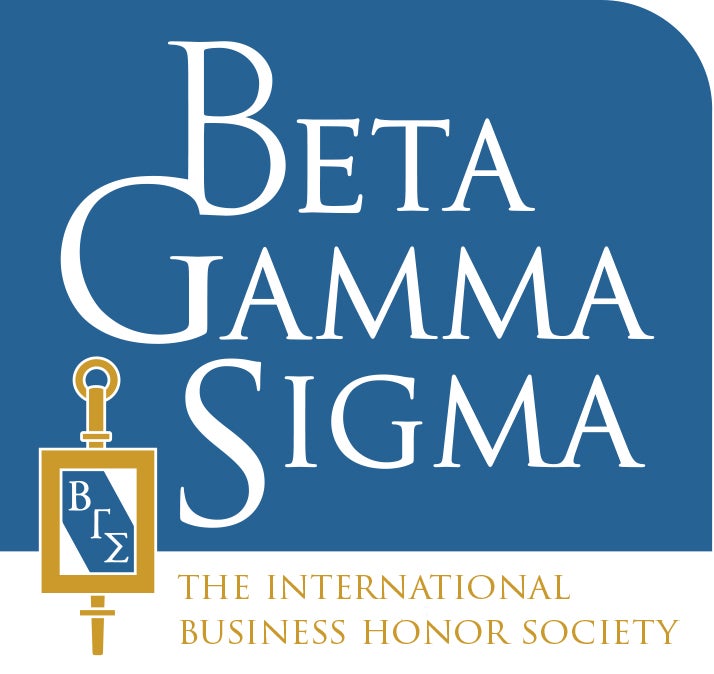 Beta Gamma Sigma is an international honor society that encourages and honors academic achievement in the study of business; cultivates and celebrates leadership and professional excellence and serves its lifelong membership. 
To be eligible for membership, students must be invited and rank in the upper 20% of their respective master's class in business school. Graduate students in multi-year programs may become eligible at the end of their first year.
Membership is select. Fewer than 8% of all those in the U.S. who receive master's degrees are inducted into Beta Gamma Sigma each year.
For more information regarding Beta Gamma Sigma, please contact faculty advisor, Heidi Hylton Meier at h.meier@csuohio.edu.
Many of the Monte Ahuja College of Business faculty and staff are Beta Gamma Sigma members. Those members are:
Sharen Bakke
Susan Storrud-Barnes
Jen-Yi Chen
Ping Deng
Donna Davisson
Vickie Gallagher
Raymond Henry
Mark Holtzblatt
Kenneth Kahn
Roger Klee
Paul Lee
Charles McElroy
Heidi Meier
Anne Nelson
Howard Paul
Tracy Porter
Laura Rickett
Francis Roncagli

Mary Janis Rose

Etzmun Rozen

Deborah Smith

Scott Yetmar

Haigang Zhou
Retired/Faculty no longer with Cleveland State University:
Christine Dickinson
Mark Dobeck
Bradford Eichhorn
Andrew Gross
Mary Hrivnak
Rajshekhar Javalgi
Sreedhar Madhavaram
Joseph Mazzola

Nazli Turken

Oya Tukel

Ivan Vernon