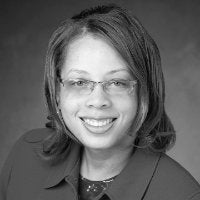 Michele Heath was honored by the Cleveland State University Office of Research and members of the University Research Council for the 2017-2018 Dissertation Research Award for her presentation "The Impact of Organization Learning on Routinization of Electronic Health Records: An Empirical Study". 
In Spring of 2016 when Michele was a Doctor of Business Administration (DBA) student, she was awarded the Excellence in Research award from the Monte Ahuja College of Business. The Doctoral Excellence in Research awards are earned by DBA students who have consistently provided research that is applicable, relevant, timely and provides insight.
Michele is now a Visiting Professor here at Cleveland State University.
Her research interests include the role of leadership, governance, culture, conflict, team composition, change management and other core management concepts in the context of health information technology. She holds a MBA from Fisher College of Business.  Michele also earned an undergraduate degree in MIS and MPA from University of Akron. Her work has appeared in the following proceedings: Americas Conference on Information Systems, Midwest Association for Information Systems, and Academy of Management. She has also presented her work at several national conferences.  Prior to joining the doctoral program at Cleveland State, Michele worked twelve years at Ernst & Young as a IT consultant.
Watch Michele describe her experience as a DBA student here: