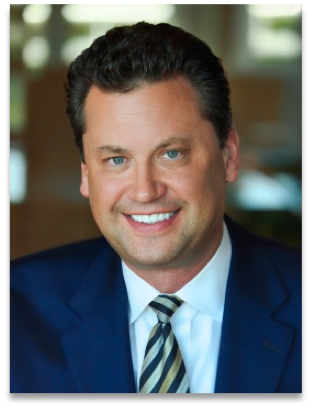 On Thursday, May 12th the Monte Ahuja College of Business' Center for Innovation and Entrepreneurship and the Rotary Club of Cleveland awarded alumnus James (Jim) A. Kandrac with the Business and Technology Innovation Leadership Award at the 26th annual Business Leadership Awards. (Read the full program here.)
Jim is currently the chief executive officer of Contract Guardian, a leading SaaS hospital contract management solution, and the founder of UCG Technologies (formerly United Computer Group, Inc.).
Jim graduated from Wickliffe High School in Lake County, came to Cleveland State and found much more than education. "Over the next four years, I learned, grew and was motivated by CSU Athletic Director Bob Busbey, swim coach Wally Morton and business professor, Jeffrey Susbauer," he said.
"In a class of 25 students, Jim finished first. This did not surprise me," said his senior capstone project professor, Dr. Jeffrey Susbauer. "Every assignment Jim performed was done on time, according to instructions with professional appearance and content. His final report was outstanding. He exhibited a level of maturity and intellectual ability that made him stand head and shoulders above all others in the course."
While at Cleveland State, Jim was a member and officer of the American Marketing Association and was also a member of the Swim Team. He graduated from The Cleveland State University with a Bachelor of Business Administration in Marketing. After taking graduate-level courses, Jim interned at IBM and spent several years in a corporate role at another firm. Trusting his entrepreneurial instincts, Jim started UCG Technologies in 1987 at the age of 26.
UCG Technologies specializes in the IBM i Series and provides a number of products and services as a Silver IBM Business Partner. Jim sold UCG Technologies in December 2021 to Focal Point Solutions Group LLC. Jim continues to be a shareholder and advisor to UCG to support its continued growth and success.
Jim tirelessly supports the growth and success of students throughout Northeast Ohio. He will have served on the CSU Foundation Board for four years this June, is a frequent guest lecturer in classes and was one of the speakers for the Bernie Moreno Center for Sales Excellence's Coffee with a Closer series.
Jim worked with the STEM program in the Brecksville-Broadview Heights School District for over ten years as a student mentor and judge for a state-wide business development competition. He also helped establish a scholarship that was awarded to the finalists.