Posted on April 18, 2016 at 10:39 AM, updated April 18, 2016 at 10:40 AM Print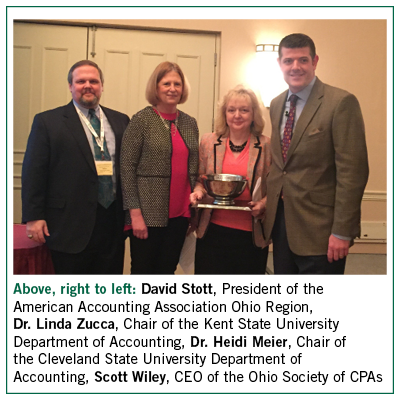 Dr. Heidi Meier, Professor of Accounting and Chair of the Accounting Department within the Monte Ahuja College of Business at Cleveland State University received the 2016 Outstanding Ohio Accounting Educator award at the American Accounting Association Ohio regional meeting on Friday, April 8th.
The award is jointly given by the Ohio Region of the American Accounting Association and the Ohio Society of Certified Public Accountants (CPAs). It is awarded to a faculty member in Ohio who has excelled in teaching, research and service to the academic and professional communities. The recipient is selected by a committee that consists of senior accounting faculty and professional accountants who are members of the State Society of CPAs.
"Dr. Heidi Meier is an outstanding educator," said Richard Reed, Ph.D., Dean of the Monte Ahuja College of Business at CSU. "To be honored by two industry organizations as the Outstanding Ohio Accounting Educator is a testament to Dr. Meier's commitment to her profession and the quality of our accounting programs."
Dr. Meier received her Doctor of Business Administration (DBA) in Accounting from Kent State University in 1987 and her MBA in Finance from Cleveland State University in 1982. She has been actively teaching in the Accounting Department at Cleveland State University since 1986 when she began as an Assistant Professor. Throughout her tenure at CSU, Dr. Meier has served as Director of the DBA program, faculty advisor to Beta Gamma Sigma, Director of the Masters of Accountancy Program and most recently, Chair of the Accounting Department.
Dr. Meier has received numerous teaching awards including the Becker CPA Review Faculty Recognition Award (2015), the Legacy Award for Outstanding Teaching from the Monte Ahuja College of Business (2005), the Outstanding Contributions in Academia and Leadership Award from the Institute of Internal Auditors (2003-2004), the Outstanding Teacher award from the Northeast Ohio Council on Higher Education (2003) and the Distinguished Faculty Teaching Award from Cleveland State University (2001) to name a few.
The Monte Ahuja College of Business is one of only 180 schools of business worldwide to achieve dual accreditation in both business and accounting from the Association to Advance Collegiate Schools of Business (AACSB) International.