Online Learning:
Enjoy the greatest commute to class possible with the mobility of Online Learning. Experience the value of taking courses on your own time with more than 300 courses offered year round.  Seize the opportunity to prepare for employment in progressive industries and for professional certification exams in highly-desired fields such as Project Management, Accounting, Web Design, Computer Programming and Business and Accounting.
We offer a wide range of highly interactive courses and career training programs that you can take entirely online. All of our courses are led by expert instructors, many of whom are nationally known authors. Our online courses are affordable, fun, fast, convenient and geared just for you.
Offered monthly
6-weeks long (career training programs may be longer)
Instructor available
Whether you're looking for professional development or personal enrichment, these six-week online courses are the perfect way to learn a new skill or enhance your existing ones. You'll spend roughly two to four hours each week completing two engaging lessons in an enjoyable, interactive learning environment. Expert instructors develop and lead every course, and you'll be able to interact with them and with fellow students in lively online discussion areas. New sessions start every month, so you can sign up anytime. Upon completing a course with a passing score, you'll get an award of completion.
In partnership with: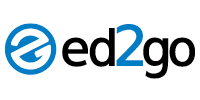 ed2go 6 week Courses:
View our online portal course today here.