Posted on March 6, 2015 at 5:09 PM, updated December 19, 2016 at 11:47 PM Print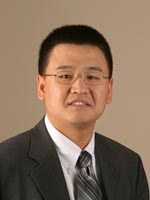 Dr. Haigang Zhou has been named the recipient of the 2015 Distinguished Faculty and Staff Award, which was presented by the Chinese American Faculty and Staff Association (CAFSA).
Dr. Zhou was selected as a result of his scholarly productivity, leadership role in preparing students for success in a global business environment, supporting Mandarin instructions and cultural exchanges, enhancing CSU's community engagement and providing assistance to the development of partnerships between Cleveland State University and universities in China.  
Dr. Zhou has published 15 peer-reviewed articles in premiere finance journals. Two of these articles were published in Financial Analyst Journal, which is widely considered the top finance journal in advancing the practice of investment management through the publication of high-quality, practitioner-relevant research. The Journal is published internationally and has over 120,000 subscribers in more than 130 countries.
Over the past two and half years, Dr. Zhou has significantly expanded the scope and quality of partnerships with local educational and cultural organizations and institutions, including the Cleveland Public Library, Cleveland Museum of Natural History, Cleveland Museum of Art, Cleveland Metropolitan School Districts and many others. Dr. Zhou is also instrumental in the development of a joint research project between CSU's Levin College of Urban Affairs and CUEB's Academy of Metropolis Economics and Social Development. The project is currently funded by a grant from CUEB. Other successful collaborative partnerships with Chinese universities include a student exchange program with Jilin University and L.L.M. exchange program with Southwest University of Political Science and Law.