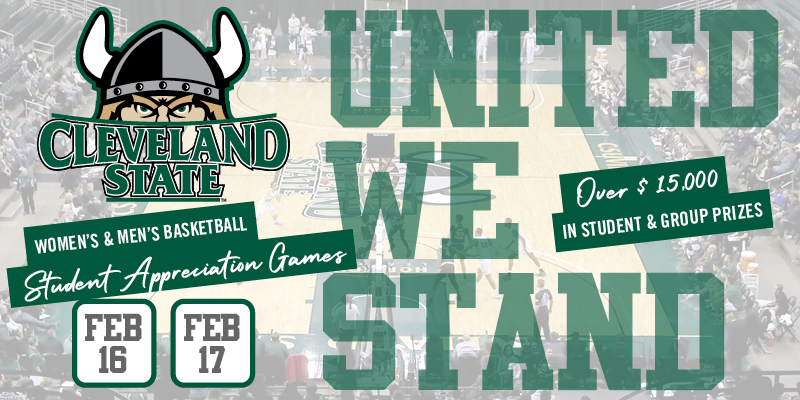 Join us on February 16, 2023, for the Cleveland State Women's Basketball Game and February 17, 2023, for the Cleveland State Men's Basketball Game to enter in the chance to win prizes worth over $15,000. This is the first-ever cross-promotion between the CSU Sport and Entertainment Management Program and CSU Athletics.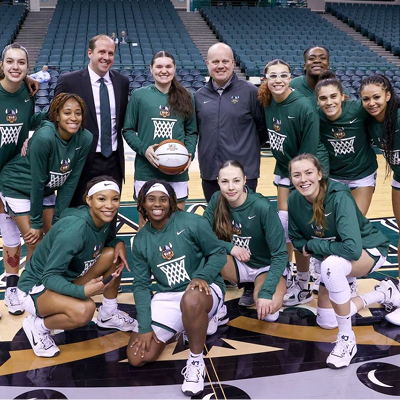 Students are encouraged to enter into two separate raffles: one group raffle and one individual raffle.  To enter into the group raffle, you must identify with a group on campus which can include:
Student Organizations

Student Groups

Student Clubs

Student Club Sports Teams

Athletic Teams

An Academic Class, etc. 
An individual from each group must complete the form to register their group and provide a list of each individual in the group for check-in purposes. 
Raffle Rules:
Only Cleveland State University students are eligible to participate.

Each individual will only receive one entry into each raffle (individual student and group).

You MUST be present to win prizes from either raffle.
Prizes Include:
Group Prizes
Individual Prizes
Group Lunch with President Bloomberg
Cleveland Guardians - 25 Group Tickets
Cleveland Guardians VIP Box Seat Tickets
Cleveland Cavaliers - 25 Group Tickets
Cleveland Cavaliers Tickets
Cleveland Monsters - 25 Group Tickets
Cleveland Monsters Tickets
Lake Erie Crushers Tickets
Lake Erie Crushers Tickets
VIP Group Tour of First Energy Stadium
Cleveland Browns Merchandise
VIP Group Tour of Progressive Field
FITE TV $20 PPV Event Code
Faceoff On The Lake - 25 Group Tickets
60-Minute Personal Training Session at CSU Rec Center
Paintball US Tickes (Group)
60-Minute Massage at CSU Rec Center
Free Team-building event for a group of 16-30 students at CSU Rec Center
JACK Casino Market District Buffet Dinners
CSU Esports Facility Tour & Mini Game Plan (15-20 students)
CSU Esports Merchandise
CSU Women's Tennis Mini Clinic
CSU Women's Tennis Merchandise
 
$250 Viking Outfitters Certificate
 
Caricature Drawing
 
FREE On-Campus Parking for One Semester
 
Rock & Roll Hall of Fame Tickets
 
$100 Gift Cards to Playhouse Square
 
Boney Fingers Gift Cards
 
Downtown Nutrition Gift Cards
Ticket Information:
All Cleveland State University students receive FREE admission to ALL athletics events on campus. Students do not need to claim a ticket for the Women's basketball game on Thursday, February 16th.  Students will need to claim a FREE ticket for the men's basketball game on Friday, February 17th here.