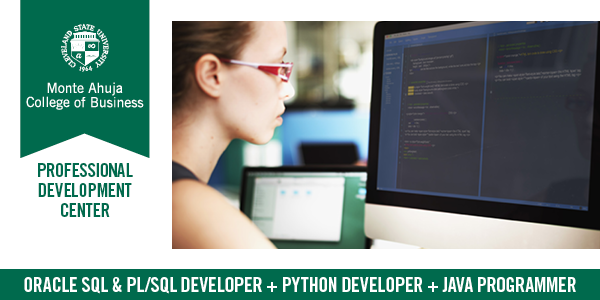 Course Description
Data science is the future of nearly every job sector and "big data" jobs are some of the hottest on the market. This 100% online course will prepare you for a career in data science and train you to develop databases with Oracle SQL, PL/SQL and program with Python and Java. You will also complete three hands-on programming projects to build out your professional portfolio.
WHY IS LEARING ORACLE SQL AND PL/SQL IMPORTANT?
A key part of data science is managing databases and database developers create applications that present data as useful information. Oracle's proprietary SQL and PL/SQL code is designed to optimize the performance of large databases.
WHY IS LEARING JAVA IMPORTANT?
Learning Java is often the start to a career in information technology as a whole. This object-oriented programming language is works on any operating system, hardware or device to build enterprise-level applications. In fact, nearly 97% of tech companies — such as Google, Uber and Facebook  — use Java.​​​​​​​
WHY IS LEARING PYTHON IMPORTANT?
Python is an object-oriented programming language that drives software development for many popular web and mobile apps. In terms of data science, it can also be used to display numbers, process text, solve equations, and manage data.
Course Objective 
Learn SQL to build applications or generate business reports

Master SQL using an Oracle database

Learn PL/SQL extension language to write sophisticated queries against an Oracle database

Understand most Java syntax elements, concentrating on fundamental and universally useful elements, while providing an overview of many more advanced elements
Schedule 
This course is 100% online. Start anytime.

​​​​​​​

​​​​​​​