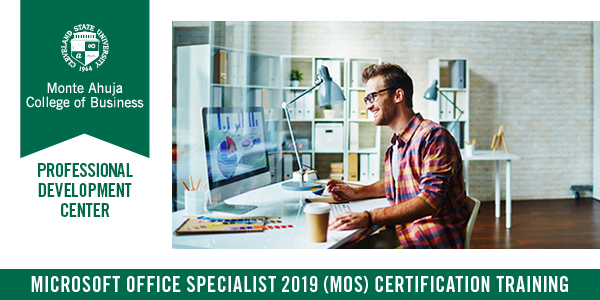 Course Description
Microsoft Office is the world's most popular suite of business productivity tools. Its Word, Excel and PowerPoint products set the standard for word processing, spreadsheet and data use and business presentations, respectively. This 100% online course will prepare you for the Microsoft Office Specialist 2019 (MOS) certification exam series for Word, Excel, PowerPoint, Outlook, and Access.
WHAT DIFFERENTIATES A MICROSOFT OFFICE SPECIALIST (MOS) FROM OTHER OFFICE USERS?
The process and knowledge involved with the MOS certification provide advanced knowledge in the operations and functions of the Office Suite products. MOS certificate holders are expected to understand and operate Microsoft Office products at a level of detail that exceeds that of an uncertified peer.
Course Objective
Prepare to take and the Microsoft Office Specialist Certification exams for Word, Excel, PowerPoint, Outlook, and Access

Learn essential skills required of the Microsoft Office 2019 suite including Word, Excel, PowerPoint, Access, and Outlook

Know how to create and edit a Word document

Present information in a compelling way via Excel or PowerPoint

Manage databases and improve efficiency using Access

Send messages, manage calendars, and collaborate with coworkers using Outlook
Schedule 
This course is 100% online. Start anytime.

​​​​​​​