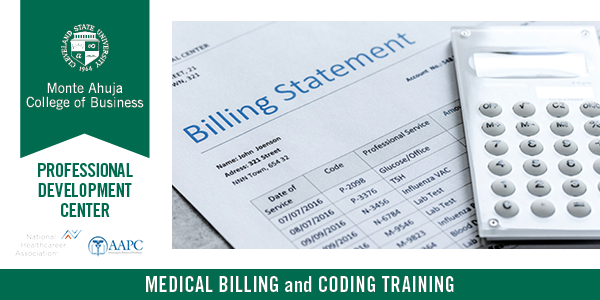 Course Description
Medical billing and coding is a rising star in the healthcare field today. This 100% online course will prepare you to start a career in this high-demand occupation and earn the medical billing and coding professional certification that best aligns with your interest and career goals. You'll learn how to use the Healthcare Common procedure Coding System (HCPCS) and the CPT Category II and ICD-10 codes. Additionally, you'll gain hands-on practice using medical billing and coding software. Upon course completion, you'll receive a voucher for the certification exam of your choice: CPC, CCA or CBCS.
WHAT DOES A MEDICAL BILLER AND CODER DO?
Medical Billers and Coders are responsible for processing patient data including medical records and related insurance. In this position, you will code a patient's diagnosis and then request payment from the patient's insurance company. You will play an important role in ensuring that healthcare providers are quickly and accurately paid for the treatment they give patients.
IS THERE A DIFFERENCE BETWEEN A MEDICAL BILLING AND A MEDICAL CODING?
Yes. Medical coders translate patient care into current procedural terminology (CPT) codes. Their primary responsibility is to ensure that the medical services provided are accurately coded. Medical billers are responsible for creating a claim based on the codes a medical coder provides. Many professionals in this area do both medical billing and medical coding.
Course Description
Be fully prepared to pass one of the following professional certifications that best aligns with your interest and career goals:

Certified Professional Coder (CPC) exam offered by the American Academy of Professional Coders (AAPC)  

Certified Coding Associate (CCA) exam offered by the American Health Information Management Association (AHIMA) 

Certified Billing and Coding Specialist (CBCS) exam offered by the National Healthcareer Association (NHA) 

Learn how the CPT Category II codes and ICD-10 codes work and how to assign them in common medical billing and coding procedures

Gain hands-on billing experience with medical billing and coding software

Externship Starter Kit to help you gain valuable experience in the field

Medical Biller standalone option for those who aren't interested in Medical Coding
Schedule
There are no prerequisites to take this course.