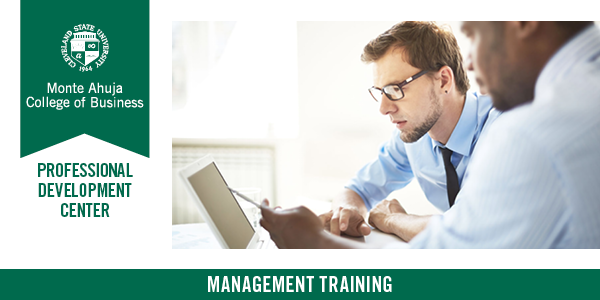 Course Description
Skillful managers lead teams, organizations and institutions through times of crisis and times of progress. The skill sets that define successful managers are well defined and can be applied in any organizational setting. This 100% online course will teach you the communication, leadership, and functional skills that lead to managerial excellence. Key topics include management disciplines, interpersonal, financial, and technological management techniques, management ethics, and marketing management.
WHAT DOES MANAGEMENT TRAINING INVOLVE?
Solid management training prepares potential managers with the conceptual foundations and practical procedures that signal strong management. An excellent manager understands the theories of leadership and coaching as well as the hands-on realities of topics such as budgeting, supervision, employee evaluation, and customer service.
Course Objective
Know the seven management disciplines essential to business success

Develop basic practical and managerial skills

Develop communication skills that will allow you to thrive in a professional environment

Understand financial and accounting terms

Know the entire marketing process, including the roles of ethics and technology

Explore important topics in running operations in accord with legal requirements

Understand the process of negotiating, evaluate negotiation styles, and consider successful negotiation strategies for most environments

Explore abilities as a leader and

Learn to masterfully manage people and projects

Gain an understanding of legal and financial regulations
Schedule
This course is 100% online. Start any time.

​​​​​​​