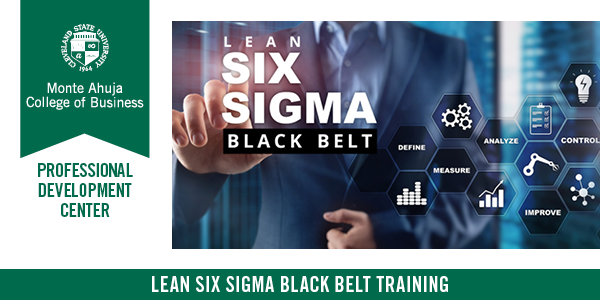 Course Description
Holding a Lean Six Sigma Black Belt demonstrates your expertise in minimizing waste and providing premium quality products and services. This 100% online course will prepare you to qualify for and pass the Lean Six Sigma Black Belt certification exam.
WHAT IS LEAN SIX SIGMA?
"Six Sigma" describes a series of process improvement techniques designed to reduce errors and improve quality in an organization's products and services. "Lean" is a management discipline that seeks to reduce waste and minimize associated costs. "Lean Six Sigma" represents the blending of the two philosophies into an operating system that maximizes quality while minimizing costs.
WHAT DOES A "BLACK BELT" IN LEAN SIX SIGMA INDICATE?
Black Belts are a change agent in the organization. A Black Belt will be the project owner of an organizational quality improvement process. As project owner, they allocate team member responsibilities and resources, effectively overseeing a team of Green and Yellow Belts.
Course Objectives
Learn the Lean Six Sigma roles and principles and the 8 Wastes of Lean Management.

Master the DMAIC methodology (Define, Measure, Analyze, Improve and Control)

Learn to collect data and track the success of projects

Complete a real-world Lean Six Sigma project

Prepare to take and pass the Lean Six Black Belt certification exam
Schedule
This course is 100% online. Start any time.

​​​​​​​