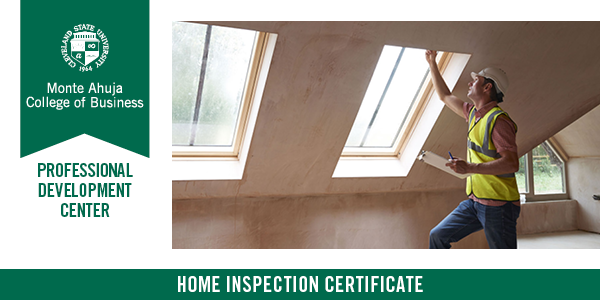 Course Description
In any housing market, homebuyers need a qualified home inspector to identify issues that can affect their purchase. This 100% course covers all the information you need to earn your Certificate in Home Inspection and launch your career as a home inspector. Key topics include assessing electrical, heating, plumbing and structural systems; documentation and more.
WHAT IS A HOME INSPECTION?
Home inspectors are an important part of the home sale process. Typically, after a home goes into escrow, the buyer hires a home inspector (either independent or part of a company) to check the home and identifies any major issues guided by state standards.
WHAT DO HOME INSPECTORS LOOK FOR?
Home inspectors are tasked with finding defects that can impact the home buyer's health and safety. For example, home inspectors will look for:
Water damage

Structural damage

Electrical system issues

Plumbing issues

HVAC systems
Course Objective
Understand the purpose, scope, procedures and standards of practice of a home inspection

Learn the methodologies involved in creating a home inspection report

Recognize common defects found in residential construction

Understand types of home inspection and personal protective equipment used by home inspectors

Appropriate reporting methodologies for creating a home inspection report

​​​​​​​
Schedule
This course is 100% online. Start anytime.