Contributor: Breanna Cruz 
Fear of the future is common. It's something that everyone has at some point in their life. Unfortunately, many people have an intense fear of choosing the right career path.  Young accounting professionals seem to experience this fear more intensely than other business fields. This could be due to the rigorous testing and constant pressures of working in the accounting field. That, paired with the various types of accounting positions offered within the field, is enough to make anyone's head spin.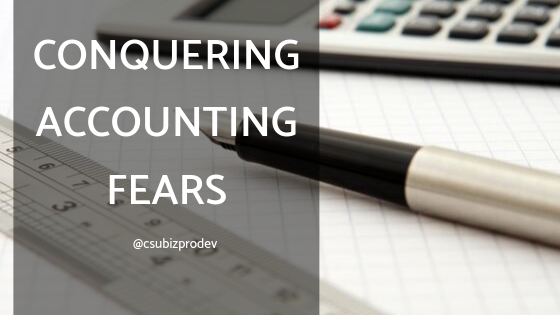 In fact, an Enactus poll state that approximately 600 students in a unanimous consensus said they had two common fears: that they would choose the wrong job and that they were missing out on another job opportunity. This poll also stated that: 
42% of accounting graduates have a fear of choosing the wrong career.
39% will enter the workforce and fail to adapt quickly enough to their new position 
Accounting employers are also concerned about recent accounting grads. In an Accountemps survey, 2,200 CFO's in the United States stated that "not living up to qualifications" was one of the top drawbacks of entry level employees.  
So what's the common thread? What is the solution to this growing problem among accounting professionals? 
Perception. 
Yes, the future can be scary. We have no way of knowing what will happen next. However, instead of being afraid of the unknown, we should perceive it as a collection of exciting and challenging opportunities. There are more tools available than ever before to help people find and keep the right career. It's important to remember that we live in a world where having several positions and even several career changes is the new normal. Obtaining a certain skill set in undergrad doesn't mean you are pigeon-holed into that area forever. There are a variety of accounting fields to explore. While it may be easier to explore these different areas before graduation, there's no harm in exploring them later on in your career as well. Similarly, if you feel unqualified for a position, there is nothing stopping you from learning new things! Don't assume that the education you have is the only education you'll ever receive or need. Like any career, accounting is a field that demands continuous learning. 
A great way to explore different accounting careers and boost your qualifications is to invest in continuing education courses. These short-term and low investment classes can help you expand your knowledge of accounting in several ways. Certain companies even pay for their employees to take advantage of these educational opportunities. (If you're interested in learning more about our accounting continuing education courses, please click here.) 
So what's the moral of the story? 
The future can be scary. But it doesn't need to be. Take the time to invest in your career and your skill sets. Get the tools you need to tackle the future with success!