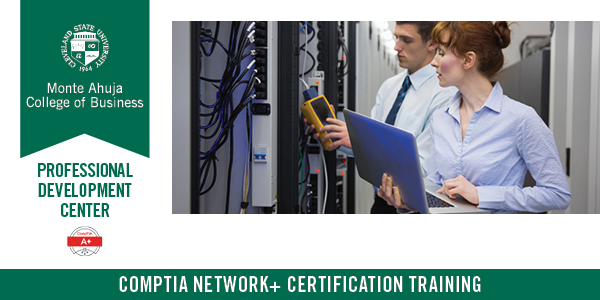 Course Description
IT networks seamlessly connect devices to the data and tools that provide users with the information they need. This 100% online course will teach you to configure, manage and troubleshoot hard-wired and wireless IT networks. Key topics include network design, security, routing and switching, cloud computing, IPv6 and forensics. Upon successful completion, you will be prepared for the CompTIA Network+ certification exam (N10-007).
WHAT IS COVERED IN THE COMPTIA NETWORK+ CERTIFICATION PROCESS?
A thorough CompTIA Network+ Certification training course will prepare you to take the CompTIA Network+ certification exam. The exam is a comprehensive validation of the knowledge and skills required to set up, deploy and manage a hard-wired or wireless IT network.
It tests for professional-level competency in the following areas:
Designing and implementing IT networks

Configuring, managing, and maintaining network devices

Using devices such as switches and routers to segment network traffic in order to create resilient networks

Reviewing existing network configurations for their strengths and weaknesses

Implementing and managing network security standards and protocols

Troubleshooting problems with hard-wired and wireless networks

Since the CompTIA Network+ Certification is considered a leading-edge credential, the exam covers cloud and virtualization technologies
Course Objective
How to install, configure, and differentiate between common network devices

Routing protocols, computer forensic practices, and addressing and cloud computing technologies

All about WAN/LAN technology, addressing services like DHCP, the OSI model and the TCP/IP model, and Domain Name Services (DNS)

How to implement a basic wireless network and wireless security

How to conduct network monitoring and perform network performance optimization

Be prepared to take and pass the CompTIA Network+ certification exam (N10-007)
Prerequisites and Requirements
There are no prerequisites to take the course. However, CompTIA recommends having up to 12 months of hands-on experience before taking the Network+ certification exam.
Schedule
This course is 100% online. Start anytime.

​​​​​​​